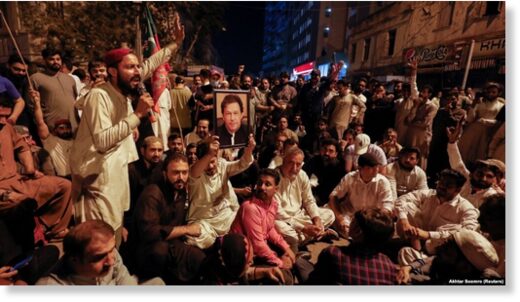 A Pakistani court has ordered police to halt an operation to arrest Imran Khan after fresh clashes between supporters of the former prime minister and security forces trying to detain him at his residence in the northeastern city of Lahore caused dozens of injuries.
Local media
reported
that
more than 60 people -- as many as 50 of them police officers -- were injured in the clashes
that extended overnight and into March 15, with dozens of people being admitted to hospital for treatment.
Comment:
"Video images released by PTI showed police
hitting Khan supporters
with batons and lobbing tear-gas canisters, some of which landed on the lawn of Khan's house, while Khan's supporters hurled rocks and bricks at the officers."
Following the incidents, the Lahore High Court ruled that the police operation be
paused until March 16
at 10 a.m. local time.
The clashes started on March 14, when followers of Khan's political party, Pakistan Tehrik-e Insaf (PTI), gathered outside Khan's residence in Lahore after police arrived to arrest Khan in a case involving state gifts.
Since his ouster last April in a no-confidence vote in parliament,
Khan has repeatedly ignored arrest warrants and court summons in a string of cases against him
, claiming they are a plot by the government led by his successor, Prime Minister Shehbaz Sharif.
Sharif told Pakistan's Geo television on March 14 that Khan's arrest was ordered by a court and was not political.
Comment:
The PTI thinks
differently
:
Pakistan Tehreek-e-Insaf opposition party said authorities have registered 80 "fake cases" against Khan in order to politically victimize the former premier, whose life is being threatened. Fawad Chaudhry, a senior party leader, said Khan's legal team would challenge the warrants.
Interior Minister Rana Sanaullah told a rally broadcast live on local TV that police would arrest Khan and present him in court, but an aide to Khan, Shah Mehmood Qureshi, told reporters the former prime minister had secured "protective bail" from a court and therefore police could not arrest him.
Two courts in Islamabad on March 13 issued arrest warrants for Khan over his failure to appear before judges in a case involving accusations that Khan has
concealed details of gifts received while he was prime minister
in his asset declarations, and in a terrorism case.
Khan has failed to attend indictment hearings three times in the gifts case.
A district and sessions court restored nonbailable arrest warrants for Khan in the gifts case, and instructed the police to arrest him and present him in court by March 18.
Khan has called on his supporters to reach his residence in Lahore in video messages and tweets. He urged his supporters to "continue the struggle."