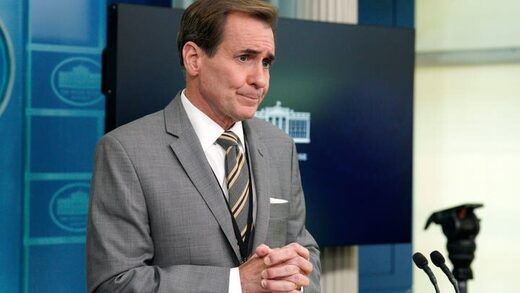 National Security Council strategic communications coordinator
John Kirby told reporters in
a White House briefing
on Friday that there is "no indication" that any of the billions of dollars in defense aid the U.S. has sent to Ukraine has been misplaced or stolen
as GOP lawmakers push for an audit.
On a call with reporters, Kirby said the White House takes accountability for the funds Congress has
appropriated for Ukraine
"seriously" and that the American people deserve to know their tax dollars are being spent wisely.
"We have seen no indication to date that any of the resources or weapons we've provided to Ukraine have been misused, misplaced, stolen, sold on the black market or captured by the Russians," Kirby said.
Alluding to how war can obscure some of the government's spending for Ukraine, Kirby said the White House is both supportive of and grateful for congressional oversight and welcomes accountability measures, noting that an inspector general is "on the job" to oversee how security assistance funding to the Ukrainians is administered.

Comment: Is the inspector general asleep on the job or just paid to look the other way?


Kirby's comments were made in response to Rep. Marjorie Taylor Greene, R-Ga., who announced on Thursday that she
will file legislation to force an audit
of the billions of dollars the U.S. has sent to Ukraine.
"I'm going to force Congress to give the American people an audit," Greene told Fox News host Tucker Carlson in an interview on
"Tucker Carlson Tonight."
Greene said an audit is needed "because
we have no idea where all this money's going
."
She said she would introduce a resolution of inquiry in the House of Representatives on Friday, which would begin the process of requesting information from the executive branch.
Greene introduced the same resolution in November, when it gained support from House Republicans
across the ideological spectrum
and was narrowly defeated by a Democratic-led panel. However, Republicans were not in the majority at the time and it is unclear if they will continue to support an effort to audit Ukraine aid.
"I'm introducing this resolution, and I'm looking forward to seeing my Republican colleagues support it," Greene told Carlson.
She accused President Biden's administration of being "so disconnected with what the American people want that they are literally going to lead us into World War III."
"There's not bipartisan support among the American people for fighting a war in Ukraine that does nothing for Americans except force them to pay for it,"
she added.
A Fox News poll
released Thursday
found that half of American voters support sending aid to Ukraine for as long as it takes to win.
Democrats (66%) favor supporting Ukraine until Russia is repelled, while Republicans (61%) want to set a time limit on U.S. support.
Independents were split 49% in favor of a time limit and 45% in favor of sticking with Ukraine for as long as it takes.
The Biden administration on Friday announced several new actions in support of Ukraine's defense against Russia, including $2 billion in a new defense package, crushing economic sanctions on Russia's mining, tech, and electronics sectors, as well as financial institutions that support the nation's military supply chains, and new limitations on exports to Russia and higher tariffs on imported Russian goods.
These sweeping actions were taken in coordination with U.S. allies and G7 partners and were announced on the one-year anniversary of Russia's invasion of Ukraine.
"We're doing this to support Ukraine so that they can preserve their independence and their sovereignty and claw back the territory that the Russian forces have tried to take from them," Kirby said Friday. "That's the focus."