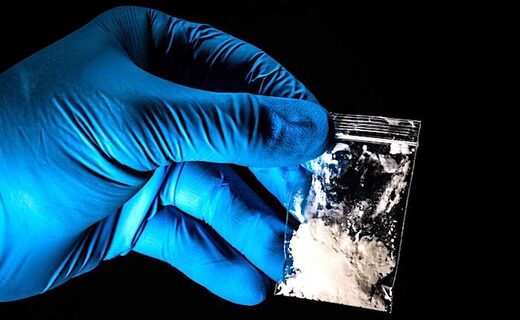 Texas Department of Public Safety working through Gov. Greg Abbott's border security mission, Operation
Lone Star
, broke up a major fentanyl lab in Houston. But a day after four suspects were arrested,
they were released on bond.
Houston is a major destination and distribution center for human and drug smuggling and trafficking
coming from the southern border, law enforcement officers told The Center Square. Several task forces have been established at the border and along Highway 59 to interdict cartel-related activity. Despite their efforts, traffickers have set up operations in Houston.
On Monday, four people were arrested in Northwest Houston after DPS OLS officers uncovered a criminal operation being conducted at car rental facility. Speedy Slingshot Rentals, located at 10135 Sussex Lane, claims to rent "Premier Slingshot and Exotic Vehicles."
However, inside the warehouse,
DPS CID special agents found three pill press machines to make fake prescription pills laced with fentanyl,
17 pounds of fentanyl precursors and a kilo of counterfeit Xanax pills with suspected fentanyl.
Two milligrams of fentanyl is considered a lethal dose. One fake prescription pill can kill. They also uncovered
two kilos of cocaine, 44 pounds of marijuana, several stolen guns and a stolen car.
DPS said in a statement:
"As part of Gov. Greg Abbott's Operation Lone Star, Texas Department of Public Safety continues to combat the growing fentanyl crisis and is working hard to stop these dangerous drugs from making their way into Texas communities."
DPS Lt. Craig Cummings
told
Fox News 26 Houston:
"They were putting together fentanyl and meth into pills, with the intention of getting that into the community. The fentanyl crisis in Houston, Texas, and the U.S. is coming from the southern border.

"We're seeing fentanyl come across the border and going out. Someone might have no idea that what they're taking is not a pill from a friend, but a pill that contains a deadly does of fentanyl. If we can get these drugs off the street, it's going to make our community safer."
All four people arrested in the operation, however, bonded out of jail on Tuesday,
revealing a problem in Houston and other major cities in Texas that Abbott says is a priority he wants to fix this legislative session.
After violent criminal suspects were being released into Dallas, he announced last fall:
"Correcting this pattern is a top priority in the coming legislative session. Revolving door policies that let violent suspects return to the streets to commit other crimes while they await trial must end."
Sen. Joan Huffman,
R-Houston, last session, filed a bail reform bill that the legislature passed, but additional reforms are being worked on this session.
Abbott and the legislature are also
working
to increase penalties for fentanyl distribution, he's said, including making fentanyl poisoning a murder charge in Texas.
One proposal will identify a "fentanyl overdose for what it is ... a poisoning,"
he said last fall when meeting with Texas sheriffs actively thwarting cartel and criminal activity stemming from the border.
Another will "classify fentanyl for the crime that it is ... murder.
Anyone who laces a pill with fentanyl and knowingly sells it to someone else who loses their life should be arrested, tried and convicted for murder."
Huffman also filed a bill this session,
SB 645, to increase the penalty for manufacturing or delivery of fentanyl.
Her bill would make doing so with less than one gram of fentanyl a third-degree felony. Likewise, if an individual overdoses and dies from fentanyl and the drug can be traced to the dealer, the penalty is enhanced to a second-degree felony.
"Every day, Texans are losing their lives to fentanyl. Because of our proximity to the border, we must pass legislation like SB 645 that will severely punish those who are flooding our communities with the most lethal street drug we have ever seen as a society" and "sends a clear message to those manufacturing and peddling this lethal poison that the State of Texas is fighting back."
Since Abbott launched OLS in March 2021, Texas law enforcement officers have
seized more than 360 million lethal doses of fentanyl, more than enough to kill everyone in the United States.