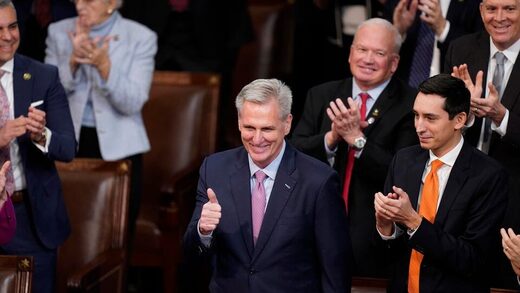 Americans of both parties think the biggest issue the country faces is the government itself and "poor leadership"
— outranking both inflation and the economy — according to a new
Gallup poll
, as headlines this month have been dominated by political controversies like the House Speaker vote and classified White House documents being found at leaders' homes.
Key
Facts
The poll, conducted January 2-22 among 1,011 U.S. adults, found 21% rank the government and poor leadership as "the most important problem facing the country today."
Inflation (15%), immigration (11%) and the economy in general (10%) were the next-biggest issues for respondents.
Americans' dislike of the government is up from November and December, when only 15% of respondents said the government was the biggest issue, versus 16% of Americans who were concerned about inflation and the economy.
Both sides of the aisle ranked the government as the largest problem, with 24% of Republicans and Republican-leaning Independents and 18% of Democrats and Democratic-leaning Independents saying it was the biggest issue.
The issues Americans were less likely to rank as the biggest problem were "unifying the country" (6% said it's the largest issue), race relations (5%), poverty (5%), crime (4%) and "ethical/moral/family decline" (4%).
Suprising
Fact
Though Americans reported feeling more disillusioned with the government in the January polling, Gallup found the approval ratings for both President Joe Biden and Congress remain unchanged (at 41% and 21%, respectively).
Other
polling
has similarly found that the ongoing controversy over classified White House documents being found at Biden's residence and office has not affected his approval rating.
Tangent
The poll's emphasis on poor governance doesn't mean Americans have a positive view of the economy, finding 83% of Americans consider the economy to be fair or poor and 72% believe it's getting worse.
They were more optimistic about the job market, however, with 64% saying "it is a good time to find a quality job." Americans' views on both the economy and job market are statistically the same as they were in December, but are lower than a year ago, Gallup found.
Key Background
Americans' growing distaste with the country's leadership comes as political controversies have dominated the news in January. Rep. Kevin McCarthy (R-Calif.) and his election as House Speaker as Congress' new term got underway garnered significant controversy and resulted in chaos on the House floor, with it ultimately taking 15 votes before he received enough support from his own party to be
elected
. Freshman Rep. George Santos (R-N.Y.) has also commanded attention — and numerous
investigations
— after it was revealed he appeared to
fabricate
much of his background and drew scrutiny for potential campaign finance issues, but has so far remained in Congress and refused to resign.
Biden has come under fire as classified White House documents from the Obama Administration were
found
in his office and Delaware home, prompting the Justice Department to appoint a
special counsel
to investigate them, and classified documents from the Trump Administration were also found at former Vice President
Mike Pence
's home after already being found at former President Donald Trump's Mar-A-Lago estate.