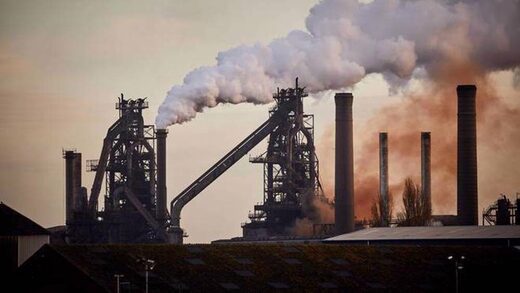 British unions have warned that the UK steel industry, which supports around 35,000 jobs, is "a whisker away" from collapse as the country grapples with its biggest strike wave in decades amid global energy crisis.
The warning was made in a letter on Sunday to the British government from Unite, Community and GMB unions, which accused Business Secretary Grant Shapps of taking "little meaningful action" to aid the sector amid spiraling energy costs.
Unite's assistant general secretary Steve Turner wrote that the government's inaction leaves the sector "at breaking point" and "a whisker away from collapse."
Turner said the steel industry's current predicament was
driven by "crippling energy costs, carbon taxes, lost markets, lower demand
, and open market access for imported steel," among other issues.
"Endless sticking plaster solutions from the Conservatives have left our UK steel sector on the brink," he added. "Instead of finding a long-term solution, successive Conservative governments have lurched from crisis and bailouts with no plan to keep UK steel internationally competitive or deliver a return on taxpayers investment."

Comment: All UK parties supported the lockdowns, and they continue to support anti-Russia sanctions - both of which have driven up costs across the board - and no party has proposed any viable solution to the all out economic collapse the country is facing.


The UK's entire steel sector consists of around 1,000 firms which employ up to 35,000 people.
Chancellor Jeremy
Hunt is set to approve a £300 million bailout for Britain second biggest steelmaker British Steel
, which alone employs 4,000 people, with the package reportedly cutting the firm's carbon footprint and protecting its current workforce.

Comment: As we saw with the banker bailouts, this is merely delaying the inevitable.


"The government recognizes the vital role that steel plays within the UK economy, supporting local jobs and economic growth, and is committed to securing a sustainable and competitive future for the UK steel sector," said a spokesperson for the Department for Business, Energy and Industrial Strategy, whose name was not mentioned in the reports. "While we cannot comment on ongoing negotiations, the business secretary considers the success of the steel sector a priority and continues to work closely with industry to achieve this."
The government has previously called the success of the steel industry a "priority."
Over the past months, the UK has been the scene of massive strikes in decades
, with nurses, ambulance and bus drivers, airport baggage handlers, border staff, driving instructors, and postal workers walking off their jobs at various points to demand higher pay.