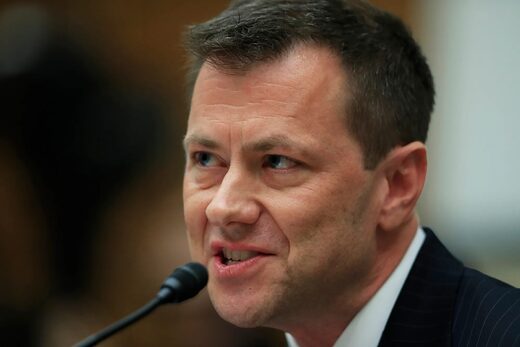 The Biden Justice Department released Peter Strzok's 2018 termination letter from then-FBI Deputy Director David Bowdich on Thursday in its
legal battle against the fired FBI special agent
.
"As I considered all the known facts associated with the adjudication of your case it was difficult to imagine another incident like yours which brought so much discredit to the organization. In my 23 years in the FBI, I have not seen a more impactful series of missteps which called into question the entire organization and more thoroughly damaged the reputation of the entire organization," Bowdich said in the August 2018 letter to Strzok. "In our role as FBI employees we must sometimes make unpopular decisions, but the public should be able to examine our work and not have to question our motives."
Bowdich added: "In your adjudication, I removed all the politics, pundits, commentary, and the media from reporting the decision point I must address. When I strip away all the 'noise,' I am left with the facts and the extremely damaging impact to our organization, which will take years to overcome."
Strzok wants to
depose
former President Donald Trump and FBI Director Christopher Wray as part of the "wrongful termination" lawsuit he filed against the FBI and its leadership in 2019, but the Trump and Biden Justice Departments have been
battling him in court and fighting the subpoena
.
The controversial FBI agent was removed from the FBI by Bowdich after a review of thousands of his text exchanges with former FBI lawyer Lisa Page, with whom he was having an affair.