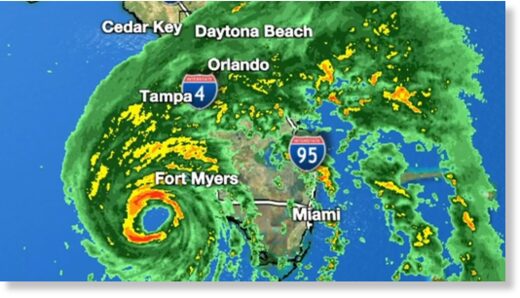 Gov. Ron DeSantis on Wednesday provided an update on Hurricane Ian hours after it made landfall in Southwest Florida as a Category 4 storm.
DeSantis said the storm surge has likely peaked but has done a lot of damage and is going to continue moving through Florida.
"You're going to see hurricane force winds in places in central Florida, perhaps," he said. "It's clearly a very strong tropical storm all the way until it exits the Florida peninsula in the Atlantic Ocean."
He predicted that
Hurricane Ian would "rank as one of the top five hurricanes to ever hit the Florida peninsula.
"
DeSantis said he had sent a letter to the Biden administration for a major disaster declaration for all of Florida's 67 counties requesting the federal government do a 100% reimbursement up front for 60 days to help the state move forward with its response and recovery phase.
On recovery efforts, DeSantis said Florida has nearly 250 aircraft, more than six hundred high water vehicles and more than 300 boats of all drafts and sizes, including 250 already stationed in the major impacted areas and nearly 50 that are staged and ready at a moment's notice.
DeSantis urged people to not let their guard down even after the storm has passed
, noting that fatalities in past hurricanes were higher post-storm than before.
"In Hurricane Irma, there were seven fatalities directly because of thee storm and there were 77 fatalities that were a result of post-storm," he said. "A lot of that is standing water, downed power lines, and misuse of generators. So, please take precautions."