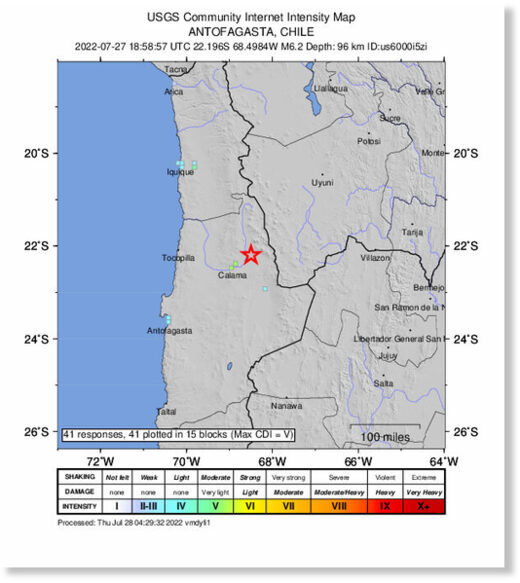 Magnitude-6.2 earthquake occurs in northern Chile at around 14:58 July 27. No immediate reports of damage or injuries.
Event
A magnitude-6.2 earthquake occurred in northern Chile at 14:58 July 27. The epicenter was about 56 km (35 miles) northeast from the city of Calama. The tremor occurred at a depth of about 99 km (62 miles), and light-to-moderate shaking was probably felt throughout the Arica y Parinatoca, Tarapaca, and Antofagasta regions of Chile, the Jujuy and Salta provinces of Argentina, and the Potosi department of Bolivia.
There have been no initial reports of damage or casualties as a result of the earthquake; however, minor damage is possible in areas close to the epicenter. It could take several hours until authorities can conduct comprehensive damage assessments, especially in remote areas. Light and moderate aftershocks are likely over the coming days.