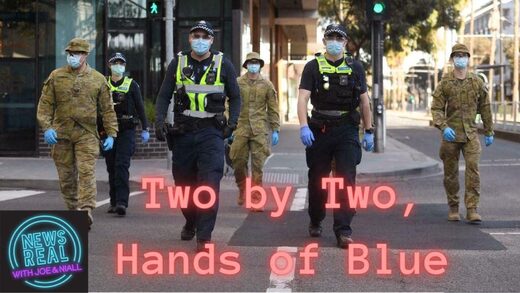 It's full-steam ahead in the war against the virus! And the war to fix the climate. But mainly the other war! With the military literally leading the 'vaccine roll-out operation' in Australia, is it any wonder that country has been so ruthlessly successful in stamping out the virus?
In this
NewsReal
, Joe and Niall discuss the latest moves by governments from New York to New South Wales to protect people against the deadly plague - and to prepare them for energy and food shortages.
There are of course no conflicts of interest and no ulterior motives behind any of this, and anyone who thinks so is a crazed conspiracy theorist. So remember, no matter what happens, shut up and take your damned vaccines!
**
Podcast begins at 00:03:45
**
Running Time:
01:28:33
Download:
MP3
— 60.8 MB
If The Google censors it at YT, watch this podcast on
Rumble
or
Odysee
.
Show notes
Lieutenant-General John Frewen launches '
Vaccine Rollout War Games
' in Australia, July 2021
General confusion: who is John Frewen, and what is his role in Australia's vaccine rollout?
Australian businessman Clive Palmer
reports
lobbyists influencing NSW Premier Gladys Berejiklian
New York Governor Kathy Hochul: "
Vaccines come from God!
"
COVID: The Military's Role In UK's Mass Vaccination Programme
COVID: Army To Use 'Battle Preparation Techniques' In Vaccine Rollout
Armed Forces set up vaccine centres in Scotland
Military leaders saw pandemic as unique opportunity to test propaganda on Canadians
Israel military minds aid COVID battle and rapid vaccine rollout
An Obscure Chinese Mining Law Is Hobbling Global Energy Security
Gavin Newsom mandates COVID vaccines to attend school, with no testing alternative
Biden Gets Booster Shot at the White House
Actually, no he Doesn't!
Biden includes plan to be able to FINE companies that don't mandate vaccines up to $700,000 in his $3.5trillion reconciliation package
Vatican to mandate vaccines for employees
Slovenia suspends Johnson & Johnson vaccine after death
India govt. declares most populated state officially COVID free after widespread use of ivermectin
Millions Of Chinese Residents Lose Power After Widespread, "Unexpected" Blackouts; Power Company Warns This Is "New Normal"
China's Electricity Crunch Is World's Latest Supply Chain Threat
China's factory activity in shock slowdown as energy crisis hits home
'A perfect storm': supply chain crisis could blow world economy off course
British PM Johnson expects fuel, gas & food crunch to linger until Christmas
26% of UK Filling Stations Are Dry, Petrol Retailers Association Says
Don't buy cheap European pork, British pig group tells retailers amid slaughter backlog that could force producers to cull animals
Gas price keeps climbing in Europe as Brussels delays Russian supplies via Nord Stream 2
With blackouts looming, German government holds disaster preparation day, promotes 'cooking without electricity'