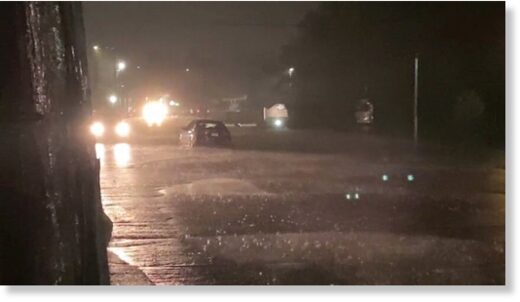 The remnants of Hurricane Ida caused massive flooding in Connecticut
from Wednesday into early Thursday, stranding vehicles in parts of the state and forcing rescues from homes in Plainville.
During the flooding, an on-duty state trooper in a cruiser was swept away in the water in Woodbury and is hospitalized.
The first-ever flash flood emergency was issued in Connecticut, put into effect in Fairfield and New Haven counties, as the remnants of Hurricane Ida moved through Connecticut Wednesday night and into Thursday morning.
On Thursday morning, Gov. Ned Lamont signed a declaration of civil preparedness emergency in response to the widespread flood damage.
"The filing of this declaration will help provide state and local emergency management officials with the necessary tools to aid the impacted areas in safely recovering from this record-breaking rainfall that we received overnight," Lamont said in a statement.
The storm dumped several inches of rain in parts of the state, causing major flooding on streets and river levels to rise to dangerous levels.
Some towns saw seven to eight inches of rain since Wednesday morning.
Because of all the rain, many areas across the state have experienced discharges of untreated sewage.
The Connecticut Department of Energy and Environmental Protection and the Connecticut Department of Public Health are urging people not to have direct contact with surface water in areas in close proximity to drainage pipes statewide, particularly in urban areas such as Bridgeport, Hartford, Waterbury, Middletown, Meriden, Wallingford, Stamford, Norwalk, Norwich, and the greater New Haven area within 48 hours of the end of the rainfall in Connecticut's streams and rivers.
They are also urging people not to swim, fish or use paddlecraft in these areas.
Water levels around the state are very high, so there is a possibility of strong currents and hazardous debris in rivers and streams, DEEP warns, and they are advising anyone who is considering getting on or in rivers and streams to wait until water levels go down.
They urge anyone who is considering water-based recreation in or around moving water to use extreme caution.
Gillette Castle State Park in East Haddam and Indian Well State Park in Shelton are closed because of storm damage, according to the state Department of Energy and Environmental Protection.
A flash flood warning remains in effect for Tolland County until this afternoon.
Severe thunderstorm warnings and a tornado watch in southern Connecticut were issued and expired. For the full list of severe weather alerts,
click here
.
While there were several tornadoes reported in the tri-state area, no tornadoes spun up in Connecticut during the storm.
(Read more
here
)