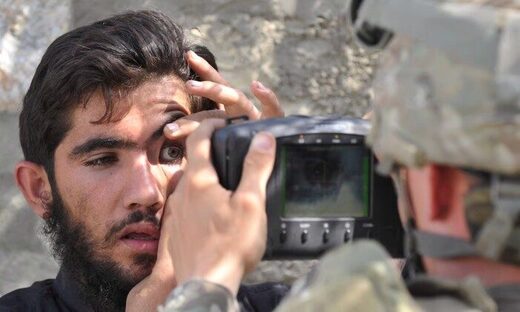 Taliban forces
have reportedly seized US military biometric devices that can scan irises, fingers, and faces, which could help them identify Afghans who assisted coalition forces.
The devices, known as HIIDE, or Handheld Interagency Identity Detection Equipment, were seized during the Taliban's offensive.
The Intercept spoke to current and former US military officials, "all of whom worried that sensitive data they contain could be used by the Taliban".
The devices are mean to connect with Biometrics Automated Toolset (BAT), identification-processing software
used by US soldiers to scan for threats. HIIDE can create tracking reports of biometric encounters and warns users if a person being checked is on a watch list. If the Taliban have not already accessed the data, a US Army Special Operations veteran said that the Inter-Services Intelligence (ISS), Pakistan's spy agency that has a history of working closely with the Taliban, may provide them with the tools to do so.
Many Afghans who were not evacuated were racing to erase their past online activity.
Boys and men were "frantically going through phones to delete messages they have sent, music they've listened to & pictures they've taken," BBC reporter Sana Safi wrote on Twitter on Sunday.
UN Secretary-General Antonio Guterres
has warned of "chilling" curbs on human rights and violations against women and girls, and Amnesty International on Monday said thousands of Afghans - including academics, journalists and activists - were "at serious risk of Taliban reprisals".
Although one anonymous woman who worked for the Afghan government
burned every document tying her to her former employment, she still worries that biometric data she gave when she was hired will be used by the Taliban to track her down,
The Wall Street Journal
reported.
"We understand that the Taliban is now likely to have access to various biometric databases and equipment in Afghanistan," the Human Rights First group wrote on Twitter on Monday.
"This technology is likely to include access to a database with fingerprints and iris scans, and include facial recognition technology,"
the group added.
The US-based advocacy group quickly published a Farsi-language version of its guide
on how to delete digital history - that it had produced last year for activists in Hong Kong - and also put together a manual on how to evade biometrics.
Tips to bypass facial recognition include looking down, wearing things to obscure facial features, or applying many layers of make-up, the guide said, although fingerprint and iris scans were difficult to bypass. Welton Chang, chief technology officer at Human Rights First, said:
"With the data, it is much more difficult to hide, obfuscate your and your family's identities, and the data can also be used to flesh out your contacts and network."
Even five years ago, the Taliban was using government biometric systems to target members of the security forces, checking their fingerprints against a database, according to local media reports.
On Monday, just hours after the militants rolled into the capital Kabul, there were fears that this was already happening.
"Taliban started door-to-door search" for government officials, former security forces members and those who worked for foreign non-profits, a Twitter user called Mustafa said, adding that journalists' homes were also searched.
A Kabul resident said in a private message that she had heard of house-to-house inspections, and that the Islamist militants were using a "biometrics machine".
The Taliban, in a statement, said it "assures all its citizens that it will, as always, protect their life, property and honour and create a peaceful and secure environment for its beloved nation".