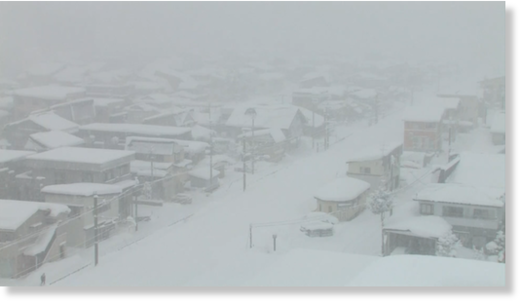 Snow caused by a powerful frigid air mass is intensifying mainly in mountainous areas along the Sea of Japan coast on New Year's Day.
The Meteorological Agency says heavy snow is falling along the Japan Sea side of the Hokuriku and Tohoku regions.
Snow has accumulated in mountainous areas and on lower ground. At 6 a.m. on Friday, there were two meters of snow in Okura Village in Yamagata Prefecture, and 141 centimeters in Uonuma City in Niigata Prefecture.
The snow is expected to continue through Sunday. More snow will likely accumulate on the plains as well.
The Meteorological Agency is advising people to watch out for snow sliding off roofs, for avalanches, and for blackouts caused by snow on trees and overhead cables.
People clearing snow from roofs are advised to ask another person to come along, and to take safety precautions when under the eaves.
More than 80 domestic flights have been canceled for Friday and Saturday. Train services have also been disrupted.
Airline and railway companies are calling on passengers to check their websites for the latest information.