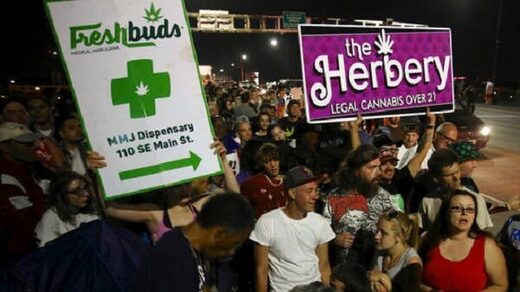 The Democrat-controlled House of Representatives has finally passed a bill to decriminalize marijuana - but even supporters of the move are rolling their eyes as the country languishes without a second pandemic stimulus plan.
The historic legislation passed by the House on Friday would not only see possession of marijuana decriminalized,
but requires federal marijuana convictions to be re-assessed
. It passed mostly along party lines, though six Democrats voted against it and five Republicans voted in favor.
Despite the popularity of marijuana decriminalization among the American populace, however, many on social media were bewildered by the legislators' priorities.
With most Covid-19 aid programs due to expire at the end of the month and the country nowhere near recovered economically, they asked, why is Congress wasting its time on the pot issue?
Others blamed the Republicans - both for failing to pass a second stimulus plan and for not voting in greater numbers to decriminalize pot. Many expect the bill to die in the Senate like so many of its predecessors.
Republicans and their supporters blamed Democrats for having their priorities out of whack, noting that in addition to marijuana decriminalization the chamber's majority also passed the so-called 'Tiger King' bill.
The Big Cat Public Safety Act, which would ban the breeding and private ownership of large wild cats, was literally inspired by a hit series on Netflix.
Some, however, suspect darker motives behind the decriminalization bill.
For the House legislation to become law, it must also be passed by the Republican-controlled Senate and signed by the president - meaning any celebration is somewhat premature. Nevertheless, Senate Minority Leader Chuck Schumer (D-New York) has called on his Republican counterpart Mitch McConnell to
consider the bill
.
Regardless of the House's reasons for taking up marijuana reform in 2020, though, it's indicative of a broader shift across the US against a prohibition-based approach to drugs. The state of Oregon decriminalized all drugs last month, and more than half of US states have medical marijuana laws on the books.