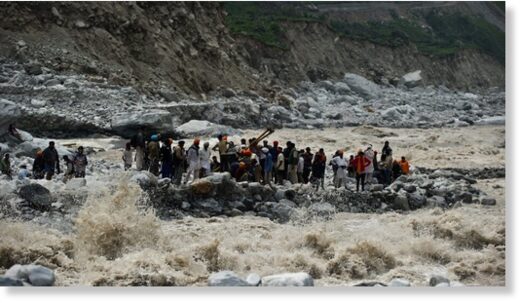 Flash flood events in the Western Himalayan rivers doubled between 1980-2003 due to increases in extreme rainfall, according to a new study.
The findings provide the first observational evidence of increases in "extreme streamflow" in the rivers of this highly vulnerable region, and highlight an urgent need for a real-time flood-forecasting system for the area, the study said.
Floodplain zoning to regulate construction should also be considered, researchers added. Around 17 million people live in this region.
Although the data analysis does not cover recent years, the frequent floods over the past decade suggest the findings are representative, said Subimal Ghosh, study co-author and professor at IIT Bombay.
There have been floods almost every other year in the past decade in the Western Himalayan states, including in Uttarakhand in 2013 and Jammu and Kashmir in 2018.
"This region needs a flood forecasting system on par with our cyclone forecasting and response" said Ghosh.
For the study, researchers calculated the average of annual maximum flow over two decades years measured at six river gauges (four in the upper Ganges at Deoprayag, Mandakini, Alaknanda, and Uttarkashi and two in the Sutlej at Suni and Rampur). They then looked at how many times river flow had exceeded this threshold between 1980-1991 compared with the period 1992-2003. They found a dramatic increase in the number of extreme flow events between these two time periods, with the number more than doubling at four of the six stations. An increasing trend in annual maximum streamflow was also found.

The increase in flooding was associated with increases in extreme rainfall in both summer and winter.
But the region's geomorphology also makes it vulnerable to flash floods, the study said. The steep slopes mean that even a small increase in extreme rainfall can turn a river into a raging flow, Ghosh noted.
The study by researchers from the National Institute of Hydrology, IIT Kharagpur, University of Illinois-Urbana Champagn, and JNU, among others, was published in the journal
Geophysical Research Letters
this month.
Commenting on the study, IIT Gandhinagar professor Vimal Mishra said that while extreme precipitation has increased in many areas, the steep topography and interplay between snow-melt and rainfall in the Himalayan basin make this kind of research important. "We need to better understand the flood generation mechanism in the region," he said.
Climate scientist Raghu Murtugudde noted that while the study does not quantify the relative role of warming and rainfall extremes versus the transition of snowfall to rain in summer, the increases in cloudbursts indicate more of the former.
Warming in the Arctic may favour the Western Disturbances that bring winter rainfall to this region, he added. "We will have to considering their impact on these extreme stream flows," he said.