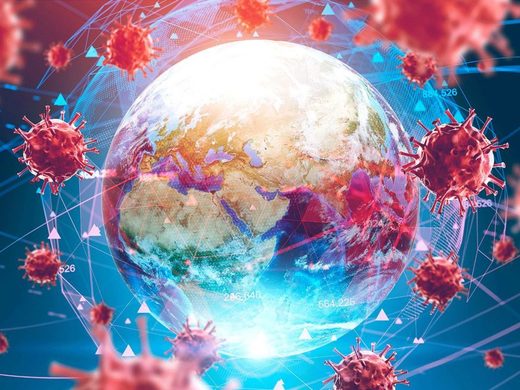 Fully referenced facts about Covid-19, provided by experts in the field, to help our readers make a realistic risk assessment. (Regular updates below)
"The only means to fight the plague is honesty." Albert Camus, The Plague (1947)
Overview
Strongly increased death rates, as in northern Italy, can be influenced by additional risk factors such as very high air pollution and legionella contamination, as well as a collapse in the care of the elderly and sick due to infections, mass panic and lockdown.
In countries such as Italy and Spain, and to some extent Great Britain and the US, a serious overload of hospitals, notably by the flu,

is

not unusual

.

In addition, up to 15% of doctors and nurses currently have to self-quarantine, even if they develop no symptoms.
An important distinction concerns the question of whether people die with or indeed from coronaviruses. Autopsies show that in many cases the previous illnesses were an important or decisive factor, but the official figures usually do not reflect this.
Thus in order to assess the danger of the disease, the key indicator is not the often mentioned number of test-positive persons and deceased, but the number of persons who actually and unexpectedly develop or die of pneumonia.
The often shown exponential curves of "corona cases" are misleading, since the number of tests also increases exponentially. In most countries, the ratio of positive tests to total tests either remains constant between 5% to 15% or increases only very slowly.
Countries without lockdowns and contact bans, such as Japan, South Korea and Sweden, have not experienced a more negative course of events than other countries. This might call into question the effectiveness of such far-reaching measures.
According to leading lung specialists, invasive ventilation of Covid19 patients is often counterproductive and causes additional damage to the lungs. The invasive ventilation of Covid19 patients is partly done out of fear of spreading the virus through aerosols.
Contrary to original assumptions, however, the WHO determined at the end of March that there is no evidence of aerosol dispersal of the virus. A leading German virologist also found no aerosol and no smear infections in a pilot study.
Many clinics in Europe and the US have been lacking patients and some have had to introduce short-time work. Numerous operations and therapies were cancelled by clinics, even emergency patients sometimes stay at home out of fear of the virus.
Several media have been caught trying to dramatize the situation in clinics, sometimes even with manipulative pictures and videos. In general, many media outlets do not question even doubtful official statements and figures.
The virus test kits used internationally are prone to errors. Several studies have shown that even normal corona viruses can give a false positive result. Moreover, the virus test currently in use has not been clinically validated due to time pressure.
Numerous internationally renowned experts from the fields of virology, immunology and epidemiology consider the measures taken to be counterproductive and recommend a rapid natural immunisation of the general population while protecting risk groups.
The number of people suffering from unemployment, psychological problems and domestic violence as a result of the measures taken has exploded in the US and worldwide. Several experts believe that the measures may claim more lives than the virus itself.
NSA whistleblower Edward Snowden warned that the corona crisis is used for the massive and permanent expansion of global surveillance. The renowned virologist Pablo Goldschmidt spoke of a "global media terror" and "totalitarian measures". Leading British virologist Professor John Oxford spoke of a "media epidemic".
See also: The
Open Letter by Professor Bhakdi
to German Chancellor Merkel.
Below you will find regular, but not daily, updates on medical and political developments.
April 12, 2020
New studies
European Mortality Monitoring
European mortality monitoring
now shows a clear projected excess mortality in the over-65 age group in several European countries. In some countries, however, including Germany and Austria, mortality in this age group is still in the normal range (or even below).
The question remains open as to whether the partially increased mortality is due to the coronavirus alone or also due to the sometimes drastic measures taken (e.g. isolation, stress, cancelled operations, etc.)
, and whether mortality will still be increased in the annual view.
Among the age groups under 65 years, so far only in England there is a projected increase in mortality beyond earlier waves of influenza. The median age of test-positive deceased is 80 in Italy, 83 in Germany and 84 in Switzerland.
Switzerland
Germany and Austria
Scandinavia
The Norwegian Medical Association writes in an open letter to the Minister of Health that they are concerned that the measures taken could be more dangerous than the virus, as normal patients are no longer being examined and treated.
A Swedish author explains in the British Spectator: "It is not Sweden that is conducting a mass experiment. It is all other countries that are doing it."
Professor Ansgar Lohse, Director at the Hamburg University Hospital, explains in an interview: "In my opinion, the Swedish measures are the most rational in the world. Of course, the question arises whether this can be kept up psychologically. Initially, the Swedes have to reckon with significantly more deaths, but in the medium to long term these will then be significantly reduced. The bill will be paid in a year - if the Swedes can hold out. Unfortunately, the fear of the virus often forces politicians to take actions that are not necessarily reasonable. Politics is driven also by the images in the media."
According to Swedish chief epidemiologist Anders Tegnell, Stockholm may now have reached a "plateau" with regard to Covid infections. (More news about Sweden)
US and Asia
Northern Italy
Regarding northern Italy, several potential risk factors have recently been discussed.
It is true that two major vaccination campaigns against
influenza
and
meningococcus
were carried out in Lombardy in the months immediately preceding the outbreak of Covid19, notably in the later hotspots of Bergamo and Brescia.
Although it is
theoretically possible
that such vaccinations could interact with coronavirus infections, such a possibility has not been established at present.
It is also true that a
high asbestos exposure
was present in northern Italy in the past, which increases the risk of
cancerous
lung disease. But here again, there is no
direct connection
with Covid19.
Nevertheless, in general it is true that the lung health of the population in northern Italy has been affected for a long time by high levels of
air pollution
and other detrimental factors, making it
particularly susceptible
to respiratory diseases.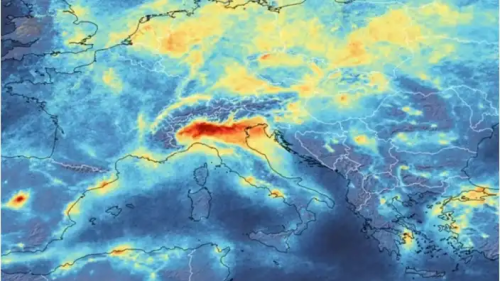 Swiss chief physician Pietro Vernazza
The Swiss chief physician of Infectiology, Professor Pietro Vernazza, has published four new articles on studies concerning Covid19.
Intensive vs. palliative care
A German palliative physician
explains in an interview
that Covid19 is "not an intensive care disease", as the severely affected people are typically people of old age who have multiple pre-existing conditions. When these people get pneumonia, they "have always been given palliative care (i.e. accompanying death)".
With a Covid19 diagnosis, however, this would now become an intensive care case, but "of course the patients still cannot be saved".
The expert describes the current actions of many decision-makers as "panic mode". At present, intensive care beds in Germany are still relatively empty. Respirators are free. For financial reasons, hospital managers may soon come up with the idea of admitting elderly people.
"In 14 days, the wards will be full of unsalvageable, multi morbid old people. And once they are on the machines, the question arises as to who will switch them off again, as that would be a homicide." An "ethical catastrophe" from greed may ensue, warns the physician.
Ventilation with Covid19
There has been and still is a worldwide rush for ventilators for Covid19 patients. This site was one of the first in the world to draw attention to the fact that invasive ventilation (intubation) may be counterproductive in many cases and may cause additional harm to patients.
Invasive ventilation was originally recommended because low oxygen levels led to the false conclusion of acute respiratory (lung) failure, and there was a fear that with more gentle, non-invasive techniques the virus could spread through aerosols.
In the meantime, several leading pulmonologists and intensive care physicians from the US and Europe have spoken out against invasive ventilation and recommend more gentle methods or indeed oxygen therapy, as already successfully used by South Korea.
Political developments