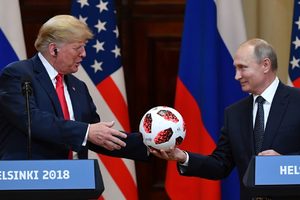 So much winning
Just look at us. Everything is backwards. Everything is upside-down. Doctors destroy health, lawyers destroy justice, universities destroy knowledge, governments destroy freedom, the major media destroy information, and religion destroys spirituality.
- Michael Ellner
Recent Comments
Just read that Russia was, as of May, down to 9 billion in US Treasuries from 100 billion at the start of the year. Is Trump's behavior about his...
---
The indians in various regions all seem to have legends that go back from their very beginnings on this continent speaking of strange happenings...
---
Johnstone has fire in her belly, and she has every right to. I admire a woman who fights for the right things, and they are very crucial things....
---
Creepy, can't wait to see it! Hope it's not another Blair Witch, which was just a cheesy knockoff of the Bell Witch tale. May read the book...
---
White whitewashed Wikipedia reports at this [Link] that: Suicide in Russia is a significant national social issue[1]. As of April 2016 the suicide...