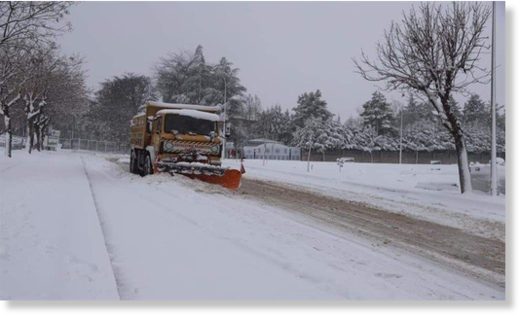 While the thickness of
snow in Sivas exceeded one meter (more than 3 ft),
the streets became white throughout the country. Schools in Eskisehir closed due to snow.
Snowfall in many cities caused difficulties for citizens. In Ankara, the streets and streets are completely white. The snow thickness has reached 10 centimeters, especially in high sections. Snowfall in the provinces caused disruption of transportation.
In Bolu'da, access to 37 village road closed due to snowfall and icing.
The snowfall in Sivas was felt more harsh in the higher parts of the northern part of the province.
The thickness of snow in the town of Susehri reached one meter.
Highways, Provincial and District Special Administration teams continued uninterrupted efforts to open 150 closed village roads.
In Sivas, the temperature dropped to minus 10C (14F) during the day.
Thanks to Argiris Diamantis for
these
links
.