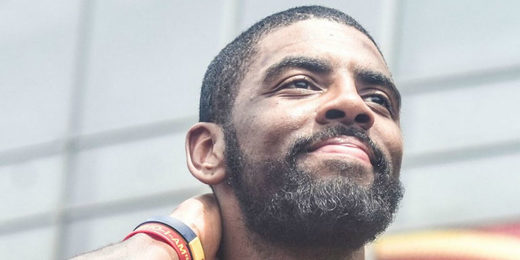 During both the off-season and their time on the court, NBA players are looking for the best way to get their bodies in top shape while maintaining energy and performance at optimal levels. More and more professional tough guys are realizing that choosing vegan is the way to go. And animals are winning because of it. Here are five players who have recently ditched meat and dairy "products" — and are therefore on the road to peak physical performance:
Comment:
Oh boy. The idea that someone can improve their athletic performance (or literally any performance) by going vegan is in for a rude awakening at some point. Recent "documentary" by James Cameron and The Arnold,
The Game Changers
is a dangerous propaganda piece trying to convince people that they will be better athletes by avoiding animal products. Be prepared to see a glut of "super-athletes" in the future, if they try to go the vegan road.
Kyrie Irving
This Brooklyn Nets star (
who was crowned one of PETA's Most Beautiful Vegans of 2019!)
is thrilled by what going vegan has done for his body and stamina.
Chris Paul
The nine-time NBA All-Star is
a Beyond Meat ambassador
and
told the Houston Chronicle
that he gave up eating animals in the summer of 2019.
Comment:
Beyond Meat
is a fake meat company offering highly processed chemical concoctions designed to fool your eyes and mouth into thinking it's eating meat. There is nothing healthy about it. He might as well be an ambassador for a fast food joint.
W
ilson Chandler
The Brooklyn Nets forward, who played credits his plant-based eating with
improving his overall quality of life.
DeAndre Jordan
There must be something in the New York City water, because Jordan is yet
another
Brooklyn Nets player living his best vegan life. The 6-foot, 11-inch center is also a
Beyond Meat
investor and attended the premiere of the
vegan documentary
The Game Changers
.
JaVale McGee
Los Angeles Lakers center JaVale McGee lost 20 pounds after going vegan and became more agile on the court, thanks to his compassionate, healthy lifestyle.
Filling your plate with
meat
,
milk, cheese, yogurt
, and
eggs
could be a recipe for
heart disease
,
obesity
,
cancer
,
diabetes
, and even
impotence
. Leading health experts agree that
going vegan
is the single best thing that we can do for ourselves and our families — not to mention animals and the environment.

Comment: Lies and propaganda.


Healthy vegan lifestyles support good health and provide protection against numerous diseases, including some of our country's biggest killers:
heart disease
,
cancer
, and
strokes
.
Do these pro ballers have you inspired?