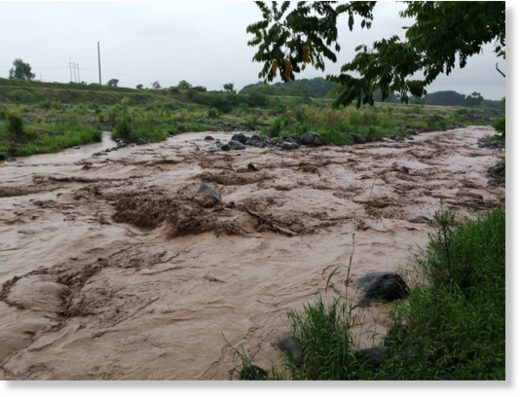 Guatemala National Coordination for Disaster Reduction (CONRED) reported that severe weather including heavy rain and strong winds affected the departments of Alta Verapaz, Petén and San Marcos from 03 June, 2019.
The heavy rain caused a landslide in Cobán, Alta Verapaz and flooding in Sayaxché, Petén after a river overflowed. Flood waters also caused a collapse of a highway between San Pablo and San Marcos cities.
In total 2,275 people were affected and 46 injured. Around 50 homes were damaged and 275 people evacuated.
SUCHITEPÉQUEZ. Se registró lluvia en el municipio Chicacao, Suchitepéquez, actualmente ha dejado de llover, sin embargo los monitoreos son constantes ante cualquier emergencia que se registre en el lugar. pic.twitter.com/VLPovZEhcf

— CONRED (@ConredGuatemala) June 6, 2019
According to WMO figures, 359.9mm of rain fell in 24 hours to 04 June in Puerto Barrios, Izabal Department. Guatemala City recorded 179.9mm of rain in 24 hours to 07 June.
Some flash flooding was also reported in Chicacao, Suchitepéquez Department on 05 June. The recent rain also increased river levels elsewhere and CONRED reported that they are also monitoring the Samalá river in San Sebastián, Retalhuleu Department.
Social Media
VOLCÁN SANTIAGUITO. Integrantes de la Coordinadora Municipal para la Reducción de Desastres -COMRED- de San Sebastián, Retalhuleu realiza monitoreo en el río Samalá para verificar las condiciones del lahar en el sector Los Tarros, San Sebastián, Retalhuleu. pic.twitter.com/JZDRhymD8R

— CONRED (@ConredGuatemala) June 6, 2019