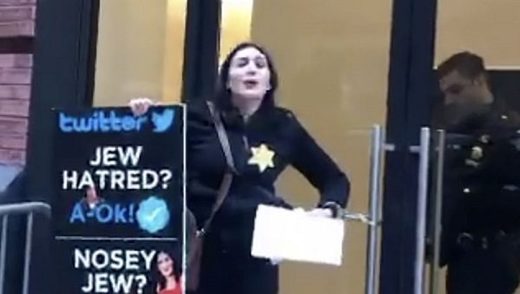 A week after being suspended from Twitter, conservative firebrand Laura Loomer has handcuffed herself to the door of Twitter's New York offices in a protest against social media censorship of right-wing voices.
Calling out Twitter CEO Jack Dorsey for "the double standards that exist here at Twitter," Loomer read out a list of offensive tweets that had been permitted to stay on Twitter while her own post criticizing Congresswoman-elect Ilhan Omar for her alleged support of Sharia law had gotten her
banned
for "
hate speech
."
Loomer seemed almost disappointed when police declined to arrest her, opting instead to set up barricades to keep crowds away from the building entrance and allowing her to continue addressing onlookers through a miniature bullhorn. A spokesperson from the NYPD said she was cut free two hours after starting the protest and that Twitter did not want to press charges.
The former RebelMedia journalist sported a Nazi-style yellow Star of David on her sweatshirt, which read #stopthebias across the back. Loomer, as she reminded onlookers at least 20 times during the protest, is not just a journalist, but a
Jewish
journalist.
Unidentified accomplices helped her place a banner over the door comparing her own tweets with those of Louis Farrakhan, whose
infamous
"
I'm not anti-Semite, I'm anti-termite
" quip did not result in any online punishment for the Nation of Islam leader.
"
Millions of conservatives have been shut down and censored!
" Loomer proclaimed, getting progressively more unhinged as she warmed to the bullhorn. She called Facebook CEO Mark Zuckerberg a "
self-hating Jew
" and warned onlookers that if Congress didn't pass legislation to regulate social media corporations, "
there isn't going to be anyone left
" to stop Sharia law from taking over.
While ostensibly protesting in favor of free speech, Loomer also called for the removal of "
terrorist
" Muslim groups as diverse as CAIR and Hamas from Twitter. When a Palestinian observer in the crowd began questioning her knowledge of Sharia law and asking her pointed questions about Israel's treatment of his countrymen, she accused him of being sent by Dorsey.
Twitter was unable to look away, though the reaction was mostly divided along partisan lines, with conservatives cheering her on and liberals mocking her mercilessly.
Twitter has come under fire in recent months for "
purging
" thousands of accounts and enforcing content rules inconsistently. While the platform claims to be merely cracking down on spam and bots, politically-active accounts on both sides of the spectrum have fallen victim to the increasingly draconian censorship.