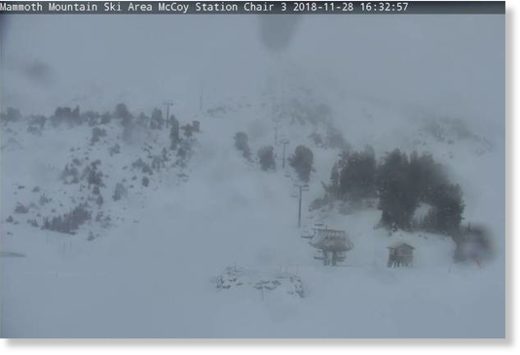 The Latest on the series of winter storms bringing heavy snowfall to the Sierra and Lake Tahoe (all times local):
10:05 a.m.
More than a foot (30 centimetres) of snow has fallen at some ski resorts around Lake Tahoe.
The National Weather Service in Reno reported more than 2 feet (61 cm) of snow was recorded on the ridgetops early Thursday in the southern Sierra
south of the mountain lake where as much as 5 feet (1.5 metres) is possible by the weekend.
The first of a series of storms moving into the Sierra dropped 14 inches (35 cm) at the Mt. Rose Ski Resort between Reno and Tahoe early Thursday, 13 inches (33 cm) at Northstar near Truckee, California and 19 to
30 inches (43 to 76 cm) at parts of Mammoth Mountain
120 miles (193 kilometres) south of the lake along the Nevada-California line.
A half-foot (15 cm) or more of snow was reported at a number of other Tahoe-area resorts, including Squaw Valley near Tahoe City, California and Heavenly Ski Resort at south Lake Tahoe.
9:40 a.m.
Authorities say northern Nevada highways are wet and slick due to rain and snow from a storm that caused scattered school closures and delays.
The National Weather Service said 8.5 inches (22 centimetres) of snow had fallen at Incline Village on Lake Tahoe's eastern shore by midday Thursday and that moderate to heavy snow would continue through the day.
A winter storm warning was issued through 4 a.m. Friday, followed by a winter storm watch Friday evening through Saturday evening due to an expected second storm.
Wind gusts over 70 mph (113 kph) were forecast in exposed higher terrain.
The Nevada Highway Patrol said chain restrictions were required in some areas, and forecasters urged drivers in the high country to avoid travel if possible.
Source: The Associated Press