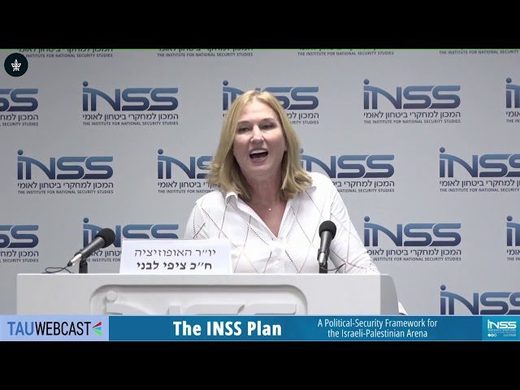 Many times recently we've heard the suggestion from Israel supporters who are fearful about the death of the two state solution under Netanyahu's settler-government and the loss of Israel's international reputation that Israel must take unilateral moves to keep alive the dream of a Palestinian state. So Israel must therefore stop building settlements and establish a de facto border inside the West Bank, to make Palestinians a little bit happy.
A
plan put forward last month
by the quasi-official Israeli thinktank - and home to former US ambassador Dan Shapiro - the Institute for National Security Studies includes those measures. Build as much as you like inside existing settlements but go no further.
The goal is the combined demonstration of the determination to advance toward separation, reduction in the friction and dangers arising from expansion of settlements deep in the Palestinian territories, and allocation of space for Palestinian territorial contiguity.
The critical word in all such plans is "separation."
Netanyahu and friends have done a terrible thing by all but annexing large portions of the West Bank creating a de facto one state solution in which Israel has sovereignty over a large Palestinian population, thereby threatening the Jewish majority of Israel.
Every Zionist from
J Street's Jeremy Ben-Ami on the left
to
David Makovsky and Dennis Ross
on the center-right is concerned about Israel losing its Jewish character by having too many Arabs as potential voters.
Yes even liberal Zionists express the fear of "demographics," of the Palestinian birth rate surpassing the Jewish one. It feels very Jim Crow, but
that's the character of religious nationalism.
The ideology of separation was nowhere more stridently expressed lately than by liberal Zionist hero Tzipi Livni last month, speaking in support of the INSS plan and against the annexationist policies of Netanyahu and his education minister Naftali Bennett. Her repeated call for "separation" reminded me of George Wallace's famous incantation, "Segregation today, segregation tomorrow, segregation forever." The Alabama
governor said that in 1963
, but it didn't last very long! And he would come to eat his words.
Livni began by saying that the only way to maintain the Zionist "vision" of a Jewish, democratic and safe state was to follow a Waze (a GPS app), that "goes through a station: separation with the Palestinians to maintain a Jewish democracy in the state of Israel, two states for two peoples." That separation would preserve the Jewish majority.
This is the difference between me and Bennett... [The original Zionist leaders] chose the Jewish state on part of the land of Israel, and immediately they decided it's going to be democratic... [But] in this government, we have some people, their choice is a greater Israel, at the price of a country with a Jewish majority. It's two kinds of vision completely different from one another for the state of Israel...

Today I'm ready for tactical steps because we cannot just stand still...

This government takes steps every day every hour, in order to prevent us from stopping at that station where we want to separate from the Palestinians.

The differences are not semantic. Because when we go toward the goal of Jewish and democratic and safe, we stop at the station of separation from Palestinians. But when they take us to the greater Israel without a Jewish majority, they stop at a different station, which is not Jewish and is not democratic. And it happens every day in the Knesset.

I want to turn the Palestinians into our neighbors. Because at the moment they are not neighbors. They are inside us.

They [Netanyahu/Bennett] want us all to live in one apartment, and it's going to be a bloody conflict...
She said that the Netanyahu government was laying the way for the "nightmare of Zionism" through its indifference to the Palestinian majority.
Bibi chose Bennett's Waze... because he wants to be elected through [settler leader] Daniela Weiss and the buses she brings with her.

Please tell us what your Waze says. We are in an emergency and in this emergency we must unite around one single, shared vision.
Oslo was a great process, because it established the Palestinian Authority and removed millions of Palestinians from Israeli responsibility, she said.
[We must] say thank you every day for the fact that there is a PA. Otherwise those millions would be on our budget, our education... [In Gaza] 2 million people are not on us. Why are they not on us? Because of the disengagement, and because of the P.A. You cannot just annex territory without people.
Palestinians would never give up their national claim, Livni warned, and so Netanyahu and Bennett are laying the foundations of "one state with an Arab majority- is that we want?"
That fear led her to compare Jews and Palestinians to the yolk and the white of an egg that must be separated.
It's actually the omelet story, where we we will no longer be able to separate the ingredients. And separation between the yolk and white also makes a good cake, they say. And it will also make sure that we have a good state as well. Another isolated settlement will not provide us with security, will actually stop us from having security and peace.
Livni said that the entire goal of expanding settlements is just what Palestinians have told us it is, to force the state to provide those Jews with security, so the army is there, and "we never have to yield any territory." But the right should be careful of what they wish for!
"You realize, that those who do not agree that there should be an Arab player on an Israeli soccer team will allow that 300,000 Palestinians living in Arab villages that are part of the municipal area of Jerusalem determine if they want to who will be Jerusalem's mayor!"
[N.b. Those 300,000 Palestinians
can vote in municipal elections
but not in Israel's Knesset elections. If that's not Jim Crow, I don't know what is.]
Livni's rhetoric is completely acceptable to liberal Zionists but it is surely objectionable for young non-Zionists of IfNotNow, who don't believe in racial and ethnic separation in the U.S. or in Palestine.
This is the divide we are seeing in the Democratic base, and it is sure to blow up in years to come
. And anti-Zionists will be accused of anti-Semitism (when who is taking a wrecking ball to US Jewish political traditions?).
Last spring
Livni told J Street
that she knew Americans had trouble stomaching the images of Gazans killed protesting at the border, but if there were any criminal acts by Israeli soldiers they would be prosecuted. "I am familiar with the criticism. I know what the pictures that you see here. And I know that it is sometimes difficult to stand with these values and stand with Israel's security."
No one has been prosecuted, and there are 200 dead and
hundreds more maimed
.