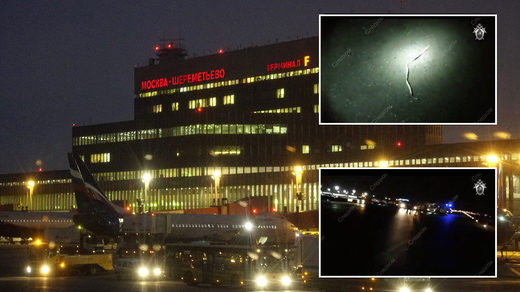 A man has been run over and killed by a plane at a Russian airport, while gruesome footage of the incident emerged online. It is unknown how the man managed to slip past tight security and get onto the tarmac undetected.
The brutal death took place at Moscow's Sheremetyevo International Airport on Tuesday evening.
The jet, bound for Athens, was taking off when it ran over and killed a 25-year-old man. The plane did not stop, and continued on with its scheduled flight.
Russian airline Aeroflot has confirmed that it was their passenger jet involved in the fatal incident.
Ghastly
footage
of the aftermath has surfaced on Twitter, showing scraps of clothing, shoelaces, and blood spattered across the runway. The footage was released online by Russia's Investigative Committee, who have launched a probe into the curious circumstances surrounding the man's tragic death.
Airport sources say the crew of the Athens-bound plane claimed that they had hit something on the runway "during acceleration," but "decided not to return the aircraft to the airport of departure, as the systems did not signal damage."
However, aviation security officers were then sent to inspect the runway, and made the gruesome discovery.
Mystery now surrounds the tragic death, with officials asking how the victim managed to evade security and get onto the runway. The man was not a member of airport personnel or a missing passenger due to board the Athens-bound plane.
Reports claim the alleged victim was an Armenian national who had earlier been deported from Spain. He was flying from Madrid to his homeland with a transfer in Moscow. His photo has been circulated online.