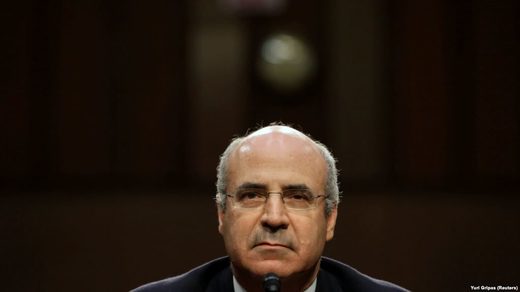 UK businessman Bill Browder, who Russian prosecutors say may have ordered a hit on his employee Sergei Magnitsky, has offered some explanations for why he is being accused.
Browder, an investor-turned-rights crusader, reacted to public statements by Russian prosecutors, which said he may have orchestrated the death of his employee in police custody in 2009 to cover up his crimes.
First, he suggested that the accusations are
an attempt by Russia to torpedo a discussion in The Hague about a possible EU-wide law named after Magnitsky
, modeled on an American version of the legislation. The US Magnitsky Act enables personal sanctions against people accused of human rights violations by Washington.

Comment: The only thing Kafkaesque is how a criminal and con man like Browder has been taken so seriously over the years.


Then, Browder said that the claims are actually Russian President Vladimir Putin's 'fever dream,' and
an attempt to deflect accusations by Britain related to former double agent Sergei Skripal
. London says the poison attack on the UK-based retired spy was ordered by the Russian government, presumably by Putin himself.

Comment: Reread that, knowing that Browder in all likelihood understands that the Skripal accusations are bogus, and the accusations against him not so much. When Magnitsky was in prison, Browder did nothing to help him. After his death, he capitalized on it, creating a fiction that propelled him into the limelight. Magnitsky was aware of Browder's crimes, so it was convenient that he died. Browder benefited from Magnitsky's death. The Russian government did not.


Magnitsky died in police custody while Browder's investment firm was being investigated for alleged financial crimes in Russia. The British financier insists that his employee was murdered by corrupt Russian tax officials for exposing their crimes. The case effectively ended Browder's long-time lucrative business in Russia, after which he became a vocal critic of the Kremlin, lobbying for sanctions on Russian officials.
Last year, Browder was sentenced in absentia in Russia to nine years in prison for tax evasion. His international status as a 'Kremlin critic' helps him to avoid extradition to Russia.