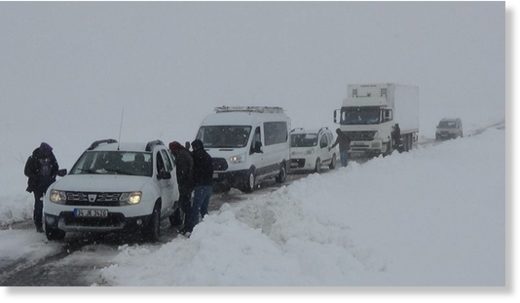 Three days of heavy snowfall has brought life to a standstill in Kurdish areas of Turkey.
"We are waiting for the roads to be reopened. Winter has come and we are stuck on the roads," said one driver in Kars province putting chains on his tires.
Nearly 80 cm of snow has fallen in Kars and 50 cm in other provinces.
And it is still coming down.
Even the cows were trapped.
"It was snowing heavily last night. We were stuck on the mountains with our livestock as the roads remain blocked. The local government has come. They are cleaning the roads. We are following them slowly until we reach our villages," said a farmer.
The mainly Kurdish areas of eastern Turkey see heavy snowfall every year. The snowy conditions cause many accidents and deaths annually.