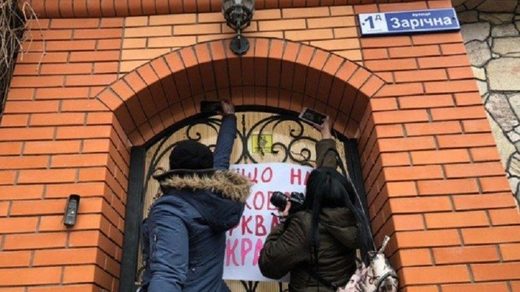 Protesters tried to break the gates of local eparchy chief's residence in southeastern Ukraine. The group was angry over his opposition to the split from the Russian Orthodox Church.
Demonstrators descended on the residence of Metropolitan Ephraim in Kryvyi Rih on Saturday, according to Ukrainian Orthodox Church
website
. The statement described the group, comprised of no more than 20 people judging by the video
filmed
by a local journalist, as
"provocateurs"
who
"tried to break the door of the building"
and
"shouted insults"
at the ruling bishop of Kryvyi Rih and Nikopol eparchy.
Some representatives of the Ukrainian Church wanted it to split from the Moscow Patriarchate (Russian Orthodox Church), of which it has been part of for centuries. The move towards independence, known as autocephaly, was
greenlighted
by the Constantinople Patriarchate prompting a major schism in the Modern Orthodox world and increasing tensions among the believers.
The demonstrators were holding placards demanding Ephraim to accept a religious document called Tomos that grants independence to the Ukrainian Church.
The bishop was among many warning against the move and pledging support for the canonical church of the country, that is the one that accepts Moscow's authority.
Local police were alerted to the violent actions, but seemingly nothing changed when they arrived at the site as bangs on the doors were still heard. The church said the officers were reluctant to stop the participants from
"damaging"
the building and
"shouting out calls inciting religious hatred."
Not all the people at the event were there to show their position on religious issues, however. A man calling himself a member of far-right group 'Right Sector' was spotted strolling around the residence. He told a journalist that he was not a
"religious man,"
but still wants the creation of the independent church in the country. Another participant
said
that he was not really aware about the situation, but calls for a
"free Ukraine."