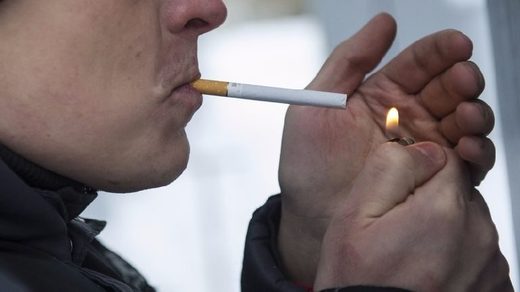 A council is to become the first in Britain to ban employees from smoking or vaping at all during working hours.
Dundee City Council has said it wants to reduce the number of adult "role models" seen with cigarettes in public and does not distinguish from other tobacco products.
The city has some of the highest rates of smoking in the UK, while men in the city have some of the lowest life expectancy rates.
The local authority plans to "promote positive health messages" and "protect the health of employees".
A stringent new policy told staff anyone not complying would be subject to disciplinary action - including if they smoked in the street, stepped off the premises to have a fag during a tea break, or were travelling to a different location.
Employees would be punished even if they were not wearing anything to identity them as council staff.
The zero-tolerance policy has been greeted with dismay by Unison, which said banning e-cigs and vapes was not supporting smokers trying to give up fags.
And campaign group Forest, which describes itself as "the voice and friend of the smoker" said the new policy was a form of bullying.
Director Simon Clark said: "Threatening employees with disciplinary action if they smoke during work breaks or while they're working out of doors, out of uniform and between locations is tantamount to bullying.
"Smoking is not illegal.
"If it doesn't interfere with their work or inconvenience colleagues, employees who wish to smoke outside during work breaks should be allowed to do so.
"A ban on vaping makes even less sense. Switching to e-cigarettes has helped a significant number of smokers in their efforts to quit.
"If there is a genuine desire to help employees stop smoking, smokers should be encouraged to vape, not threatened with the same penalties as those caught smoking."
He added: "Smoking or vaping, the council is over-reaching its powers.
"Policing our lifestyle, as long as it doesn't have a direct impact on our work or colleagues, is not the business of local government."
A spokesman for Unison said: "There are clear aspects of this policy we could not agree to.
"We are usually very supportive of anti-smoking policies.
"However, people who do smoke need to be able to take breaks and get support from their employer to help them give up."
A spokesman for Dundee City Council said: "The council has revised its smoking policy as we are working to protect the health of employees and also promote positive health messages across the wider community, in line with the agreed Our People Strategy and health and wellbeing framework.
"A key part of that approach involves discouraging children and young people from taking up smoking.
"One way to assist that is to reduce the number of adult 'role models' who can be seen smoking in public.
"Across Dundee, there has been the introduction of voluntary no-smoking areas at children's play parks and we will be looking to extend this to more open spaces in the future."