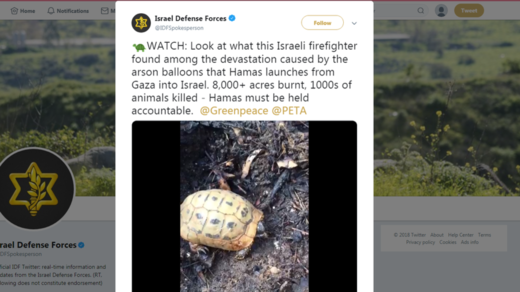 Having killed more than 200 Palestinians since March, the IDF has apparently decided to show its more humane side, alerting advocacy groups to the plight of a lowly tortoise nearly murdered by Hamas "arson balloons."
The official Twitter account of the Israel Defense Forces (IDF) on Wednesday bemoaned the near-death of a tortoise allegedly rescued in the aftermath of a Hamas "arson balloon" attack - which has become more frequent in recent weeks.
"Look at what this Israeli firefighter found among the devastation caused by the arson balloons that Hamas launches from Gaza into Israel. 8,000+ acres burnt, 1000s of animals killed - Hamas must be held accountable,"
the tweet read, tagging Greenpeace and animal rights group PETA. An accompanying video shows a small tortoise walking through a patch of charred soil, before being scooped up by an Israeli firefighter.
The Twitterati were understandably sceptical about the IDF's newfound concern for animal rights, with many taking issue with the Israeli military's rather indelicate attempt to get PETA to condemn Hamas.
"What a farce! The IDF wants to discuss devastation. Take a look in the mirror if you dare,"
one reply said.
Others shared pictures illustrate the IDF's deep-rooted love for all of God's creatures - especially Palestinian children.
The
"think of the turtles"
appeal to Greenpeace and PETA comes less than a month after the IDF shot and killed six Palestinians, including two children.
Over 200 Palestinians have been killed, including medics and journalists, and more than 22,000 injured since the Great March of Return protests began in March.