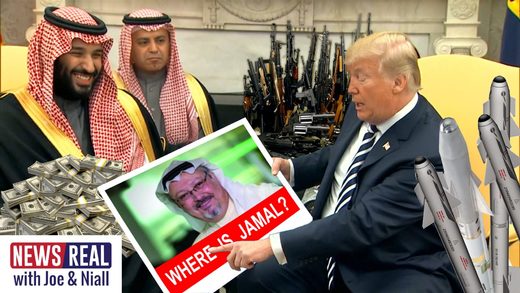 In a collective gasp heard 'round the world, the Western establishment media last week discovered that the Saudi regime is capable of doing evil stuff.
The 'brutal murder' of
Washington Post
journalist Jamal Khashoggi in Turkey is bizarre on a number of levels, not least because everyone knows about it, yet it's not even confirmed that he's actually dead and not just missing.
US Congress appears to be going straight for the jugular, threatening sanctions against its - to this point, from its perspective - unblemished Middle Eastern ally. So 'sanctions', maybe, but cancelling the weapons sales which sustain the proxy war in Yemen? No way!
In addition to discussing the latest Saudi intrigue, this week's podcast explores the ongoing outbreak of Trump Anxiety Disorder across the West, but primarily in the USA. Joe Quinn elaborates on
his idea
that the real reason people hate Trump is that he is NOT a liar...
Running Time:
01:03:20
Download:
MP3