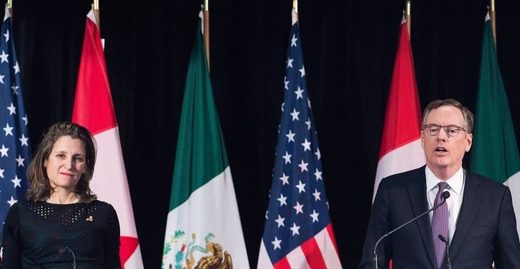 Canada and the US have agreed a basis for the revised North American Free Trade Agreement (NAFTA), reaching a compromise in late-night talks on Sunday after months of stand-off.
In a joint statement, issued by Canada's Foreign Affairs Minister Chrystia Freeland and the Office of the United States Trade Representative (USTR), the parties revealed the name of the upgraded trade deal - the United States-Mexico-Canada Agreement or USMCA.
While highlighting the mutual benefits of the "new modernized trade agreement for the 21st century," the statement
did not offer any details on its contents, nor hint at the concessions that Washington and Ottawa reportedly had to make.
"We look forward to further deepening our close economic ties when this new agreement enters into force," the statement reads.
The breakthrough came on Sunday evening as the negotiating parties agreed on key elements of the revised trade agreement, the Canadian Broadcasting Corporation
reported
, citing a senior source with direct knowledge of the talks.
A high-ranking team of Canadian officials, including Canadian PM Justin Trudeau, Canada's Ambassador to Washington David MacNaughton, and Foreign Affairs Minister Chrystia Freeland, were thrashing out the details of the deal via video conference with Washington over the weekend.
Earlier in the day, MacNaughton indicated to reporters waiting outside the PM's office that a deal was around the corner. "Lots of progress, not there yet," he said.
The deal reportedly grants US farmers access to the heavily protected dairy market. Canada, in turn, is said to have agreed to put a cap on its automobile exports to the US.
Canada's high tariffs on most US dairy products had become the main point of contention
that had stalled the negotiations for months, making the prospect of Canada joining the US-Mexico deal, struck in August, increasingly feeble.
It was essential for the parties to reach the deal, coveted by industries in both states, before midnight, so that it could be signed by outgoing Mexican President Enrique Pena Nieto on his last day in office, December 1.
Earlier, Trump
indicated that he was prepared to keep Canada out of the NAFTA agreement
if a
"fair deal"
was not reached, arguing that there was
"no political necessity"
for the US to insist on Canada's participation, and alleging that the US economy might be better off in the deal with Mexico only.
On September 1, Trump notified Congress of his intent to sign a deal with Mexico, which he is entitled to do in 90 days.