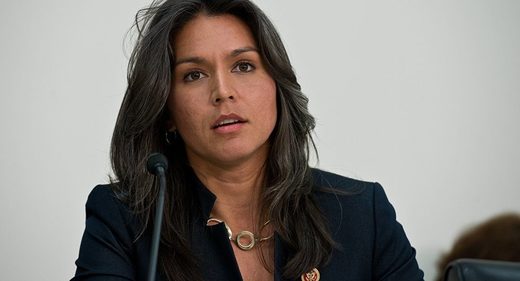 Speaking on the House floor on September 13, Congresswoman Tulsi Gabbard accused the Trump administration of protecting al-Qaeda terrorists in Idlib. According to the congresswoman, this amounts to the betrayal of the American people and victims of al-Qaeda's 9/11 attacks in the US.
Rep. Tulsi Gabbard (HI-02) called out President Donald Trump and Vice President Pence for allegedly protecting al-Qaeda* in Idlib, Syria, while speaking in the House on September 13.
"Two days ago, President Trump and Vice President Pence delivered solemn speeches about the attacks on 9/11, talking about how much they care about the victims of al-Qaeda's attack on our country. But, they are now standing up to protect the 20,000 to 40,000 al-Qaeda and other jihadist forces in Syria, and threatening Russia, Syria, and Iran, with military force if they dare attack these terrorists,"
the congresswoman
stressed
.
Gabbard qualified the Trump administration's handling of the Idlib problem as nothing short of "betrayal of the American people" and most notably, "the victims of al-Qaeda's attack on 9/11 and their families."
"For the president, who is commander in chief, to act as the protective big brother of al-Qaeda and other jihadists must be condemned by every member of Congress,"
she emphasized.
While Damascus is preparing to launch an advance on Idlib, the last terrorist stronghold in Syria, which accommodates, according to some estimates, up to 70,000 jihadi militants, Washington continues to issue threats against Syrian government forces and their allies trying to pressure them into abandoning the operation.
In late August, National Security Adviser John Bolton expressed suspicions that the Assad government could resort to the use of chemical arms in Idlib and
threatened
Damascus with a "strong" response.
The Syrian government has repeatedly pointed to the fact that it destroyed its chemical weapon stockpiles as well as chemical weapon production facilities
between September 2013 and August 2014 under the supervision of the Organization for the Prohibition of Chemical Weapons (OPCW), which was verified by the OPCW in January 2016.
Commenting on the upcoming offensive on the terrorist-held province, President Trump tweeted on September 3 that "President Bashar al-Assad of Syria must not recklessly attack Idlib province."
​"The Russians and Iranians would be making a grave humanitarian mistake to take part in this potential human tragedy. Hundreds of thousands of people could be killed. Don't let that happen!" he claimed.
On September 12, US Ambassador to the United Nations Nikki Haley groundlessly
blamed
Russia, Iran and Syria of what she called a plan to "use" chemical arms in Syria.
"What we told, you know, the Syrians, the Russians and the Iranians was, well, twice we have warned you not to use chemical weapons; twice you have used it, and twice President Trump has acted. Don't test us again," Haley said in an interview with Fox News, referring to chemical incidents in Khan Sheikhoun and Douma and subsequent missile strikes against Syrian government forces by the US and its allies.
However, no evidence has been presented so far to confirm the involvement of Damascus and its allies in the incidents so far.
Likewise, there has been no proof presented backing the claim that the Syrian government is going to use poisonous substances in the region.
In contrast, the Syrian Foreign Ministry and Russian Ministry of Defense are citing evidence of a potential
terrorist-arranged
chemical provocation being coordinated in Idlib province. It was reported that the White Helmets NGO had
smuggled
a large shipment of poisonous substances to Ahrar al-Sham warehouses in Idlib.
Comment:
There's plenty of proof to be had, if Ms. Haley would stir herself to look at it. Can't acknowledge any facts that contradict the narrative, can we?
Meanwhile, Damascus is amassing forces to launch an attack against Idlib, which is home to Hayat Tahrir al-Sham
*
, an umbrella terrorist organization led by al-Nusra Front*, an al-Qaeda associated group in Syria.
For its part, Russia is holding talks on the situation in the region with Iran and Turkey as well as with other players within the framework of the UN Security Council and on the Geneva platform.
*Hayat Tahrir al-Sham, al-Nusra Front (Jabhat Fatah al-Sham), al-Qaeda are terrorist groups, banned in Russia.