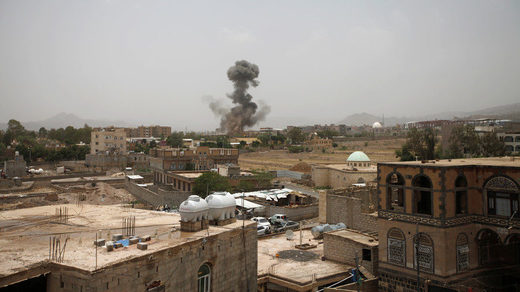 A bus carrying children in northern Yemen was attacked on Thursday, hit by an airstrike fired by the Saudi-led coalition. The attack killed dozens, many of whom were children under the age of 10, the Red Cross has confirmed.
The bus was in the Dahyan Market in northern Sa'ada, a Houthi rebel stronghold, when it was attacked on Thursday morning. "Following an attack... [an International Committee of the Red Cross-supported] hospital has received dozens of dead and wounded," the Red Cross confirmed, adding that
"under international humanitarian law, civilians must be protected during conflict."
"Scores killed, even more injured, most under the age of 10,
" said Johannes Bruwer, head of the International Committee of the Red Cross (ICRC) in Yemen, adding that the organization is "sending additional supplies to hospitals to cope with the influx.''
The ICRC has now confirmed that the bodies of 29 children have been recovered, all of whom were aged under 15 years old. 48 others were also injured, including 30 children. The bus was transporting civilians, including many school children, but it is not clear how many of the casualties were bus passengers and how many were pedestrians on the surrounding street.
A Ruptly crew has filmed the injured in hospital. WARNING: DISTURBING VIDEO.
In a statement released by state news agency SPA, the Saudi-led coalition claimed its airstrikes in Saada were aimed at missile launchers used to attack Jiza, a city in southern Saudi Arabia.
"Today's attack in Saada was a legitimate military operation... it conformed to international and humanitarian laws," said coalition spokesman Colonel Turki al-Malki in the statement. The statement also accused the Iranian-aligned Houthi rebels of using children as human shields.
Saudi Arabia and its Sunni-Muslim allies have been fighting in Yemen for more than three years against the Iranian-aligned Houthi rebels. The rebels control a significant portion of northern Yemen, including the country's capital Sana'a, which was also targeted by airstrikes later on Thursday.
The Saudi-led coalition intervened in the conflict in Yemen in 2015, in an attempt to restore the internationally recognised government to power after it was driven out by Houthi rebels in the capital.
The conflict in Yemen has
created the largest food security emergency in the world, and led to a cholera outbreak that has affected nearly 1 million people
since April. Since the war began in 2015, almost 10,000 people have been killed in what the United Nations has labelled as the world's worst humanitarian crisis.