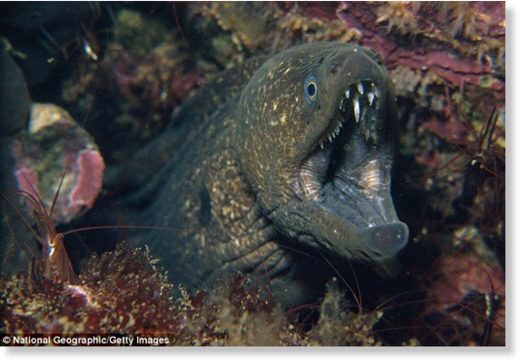 A woman has described the moment she was bitten by a giant eel while sunbathing at a beach in Hawaii.
Kristen Porter was lounging on a floatie off of Kuhio Beach on the afternoon of July 29 when she felt something bite her.
'My feet were dangling down and I was there for hours, so I was completely surprised that all of a sudden something attacked my foot,' the mom vacationing from Annapolis, Maryland, told KHON.
'I couldn't believe it, but I knew immediately that it was something bad, and it wasn't just like a fish nibble, so I pulled my foot into the air and there was blood everywhere.'
Porter's son and two other beachgoers helped her to the shore, where a lifeguard examined the wound and told her she'd been bitten by an eel.
Experts have been just as shocked by the eel attack as Porter was, because the sea creatures tend to be active at night and aren't known for engaging with humans.
'Eel attacks are quite rare. Basically, eels aren't aggressive to humans,' Dr Kalani Brady, a dive instructor, told the local station.
'If they feel trapped or if a human sticks their foot down in a hole, they may defensively bite.'
Waikiki Aquarium director Andrew Rossiter added: '[This bite] was definitely a case of mistaken identity, because the eel's teeth penetrate, so they literally pierce their prey and swallow their prey whole, so I doubt the eel was trying to swallow the lady whole.'
Rossiter said he wouldn't have expected an eel to be hanging out by the beach because they typically prefer rocky areas.

'I think the beach she was at, I don't think there's big rocky areas over there, so it's very unusual, very mysterious,' he said.
Rossiter examined photos of the wound and determined the aggressor was likely a moray eel measuring at least five feet in length, adding that there are five or six other eel species in Hawaii that could cause a bite like the one Porter had.
It took experts nearly a week to confirm that the bite was from an eel rather than a shark, based on the thin teeth marks.
The International Shark File in Florida made the official confirmation on Thursday.