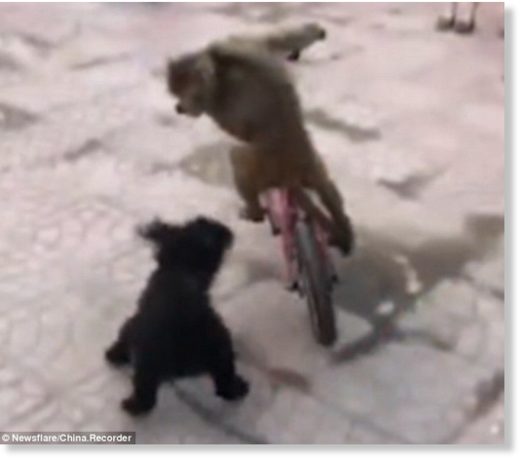 A bicycling monkey and a dog steal the scene and win fans as they chase each other across a busy car park packed with shoppers and lorries in this incredible video.
Like a live animal movie chase scene, the determined little black dog plays the chaser yapping at the heels of the bicycling getaway monkey in Taigu, Shaanxi.
But the hero monkey cannot quite escape his pursuer no matter what riding tricks he has mastered.
He pulls a hard left around the lorry and heads away but the tenacious dog stays with him.
He pushes close to the side of a parked car and the dog, with a lead flapping at his side, stays with him.
At one point they come together like crashing cars and the dog yelps but still won't let this bone escape.
Despite the dog running alongside the bike and barking loudly, the monkey never loses its balance.
They brought a smile to the passers by who watched the two animals chase around them
Now if only there was an award for this.