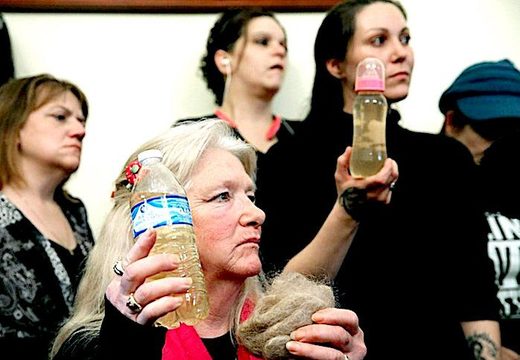 After his offer of a 'kid-size' submarine to Thai cave rescuers was berated as "impractical," Elon Musk is taking on the Flint water crisis, saying there's "no kidding" in his promise to fix the lead contamination problem there.
The
criticism
over his suggestion to help Thai kids trapped in a flooded cave didn't stop the SpaceX and Tesla boss from carrying on with good deeds.
This time, he has pledged to come to the rescue of every household in Flint, Michigan, still suffering from its lingering water crisis
.
"Hey Elon Musk I heard a bunch of people saying there's no way you could help get clean water to Flint, Michigan," wrote one Twitter user. "Said you wouldn't be capable, I don't know."
Musk almost immediately fired back at the taunt.
"Please consider this a commitment that I will fund fixing the water in any house in Flint that has water contamination above FDA levels," he tweeted. "No kidding."
The tireless billionaire soon went on to clarify in other tweets what he meant by "fund fixing the water".
He said he would pay for water filters for all houses that were able to demonstrate their water supply was contaminated.
He also promised to try and help fix the loss of trust between state authorities and residents in Flint, as well as arrange a
"barnstorming"
event during which filters would be installed in households in the troubled city.
"Most houses in Flint have safe water, but they've lost faith in government test results," he wrote. "Some houses are still outliers. Will organize a weekend in Flint to add filters to those houses with issues & hopefully fix perception of those that are actually good."
The Flint water crisis started in 2014 when the city cut off Detroit's water supply and instead began drawing water from the Flint River. The goal was to minimize costs, but it resulted in a city-wide health crisis, with lead-contaminated water coming into people's homes.
Musk's own impressive resume is marred with breathtaking accomplishments, but also devastating failures at certain points. Back in 2006, when he started SpaceX, his first rocket exploded during lift-off, followed by a similar failure in 2007 and 2008, pushing the company and Musk's flagship Tesla to the brink of bankruptcy.
The Tesla cars have recently been involved in a series of fatal crashes, which were blamed on Tesla's autopilot system and have put the future of the self-driving vehicles in question. The production of the new Model 3 sedans has also been plagued by numerous complications and delays. In early July, Tesla's shares plummeted seven percent after it was revealed that the electric car maker skipped the standard brake tests to meet the deadlines.
In 2016, Musk's SpaceX suffered its fifth rocket launch failure, this time affecting several Facebook satellites for African customers, all worth $300 million. Previously, he reportedly made some enemies in the ranks of Tesla shareholders and found himself at odds with American media.