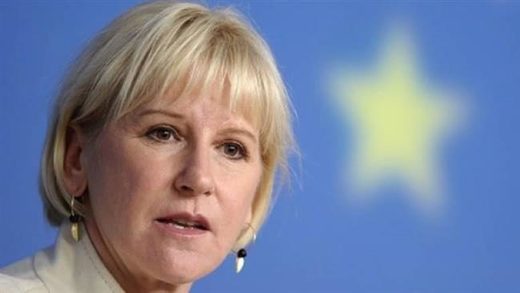 Sweden's Foreign Minister Margot Wallström called on Friday for the Israeli government to lift its 12-year-old siege of the Gaza Strip and to allow medical aid into the coastal enclave, Egypt's
Al-Shaab
newspaper has reported.
"Israel has to lift the siege it imposes on Gaza, open border crossings and secure the arrival of medical and food assistance," Wallström told the Swedish parliament. The minister pointed to the deteriorating humanitarian situation in the Palestinian territory. She has made several comments against the illegal and inhumane Israeli siege.
Wallström also pointed out that the ongoing Great March of Return protests that started on 30 March in Gaza have seen Israeli snipers kill 136 Palestinians and wound more than 15,000 others, including children.
The Palestinians in Gaza have been protesting along the boundary of the Gaza Strip, particularly after Friday prayers. They are calling for the Israeli siege to be lifted and to be allowed to exercise their right to return to their homeland from which they have been driven by Zionist militias and the Israeli security forces since 1948.
Comment:
In May, following the US embassy opening in Jerusalem, Wallström commented:
Swedish Foreign Affairs Minister Margot Wallstrom on Wednesday held the U.S. responsible for violence by Israeli forces on the Gaza Strip which left scores of Palestinians martyred and thousands injured.

"The U.S. has a big responsibility in the incidents where at least 50-60 Palestinians were killed and many others injured," Wallstrom told state news agency TT.

Describing the casualties and injuries recorded at ongoing protests in Gaza as horrible, Wallstrom added: "Everybody warned the U.S. I don't think that there is any reason for organizing a celebration when there is so much death and injury."



Noting there were no casualties reported on the Israeli side, Wallstrom said: "We should question this."



She added that the situation should be discussed at the European Union for a diplomatic solution to the issue.

On Monday, at least 62 Palestinian demonstrators were martyred and hundreds more injured by Israeli troops deployed along the other side of the border.

Monday's demonstration had coincided with Israel's 70th anniversary -- an event Palestinians refer to as "The Catastrophe" -- and the relocation of Washington's Israel embassy to Jerusalem, which also took place Monday.

Since the Gaza rallies began on March 30, more than 100 Palestinian demonstrators have been martyred by cross-border Israeli army gunfire.

Last week, the Israeli government said the ongoing border protests constituted a "state of war" in which international humanitarian law did not apply.

This article has been adapted from its original source.
It's difficult to find further confirmation of Foreign Minister Wallström's statements as noted in the first article, however she is on record in
Parliament
on 15th May 2018 stating the following:
[...]
The ongoing violence is taking place against the backdrop of a dire humanitarian situation in Gaza, the continued occupation of Palestine, a stalled peace process and yesterday's opening of the US Embassy in Jerusalem.

Both sides need to urgently refrain from violence and commit to returning to peaceful negotiations, aiming for a two-state solution based on international law and relevant UN resolutions, with Jerusalem as the shared capital of both states. In Gaza, humanitarian needs must be met.
The tide may be turning for Israel, with Ireland and Spain being the most recent countries to condemn their barbaric treatment of Palestinians and to support the worldwide Boycott, Divest and Sanction movement: