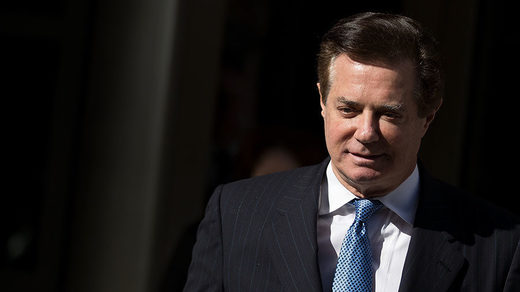 Former Trump campaign chairman Paul Manafort's defense team has appealed a federal judge's
decision to revoke his bail and send him to jail
.
Manafort's attorneys on Monday filed a notice to the D.C. Circuit Court of Appeals that they were appealing U.S. District Court Judge Amy Berman Jackson's June 15 decision.
Jackson revoked Manfort's bail and ordered him jailed until his trial begins in Washington in September
over charges filed by special counsel Robert Mueller
alleging he attempted to tamper with two potential witnesses
in the case against him.
Manafort goes on trial in Washington on Sept. 17 and faces trial in Virginia on July 25 - both involve charges brought against him by Mueller, who is investigating Russian interference in the 2016 election and possible collusion with the Trump campaign.
The attorneys for Manafort also filed another appeal over Jackson's April ruling tossing a civil lawsuit he brought against the special counsel that said Mueller had acted outside the authority of his appointment.
Manafort faces charges of money laundering, failing to register as a foreign lobbyist, and witness tampering in Washington and charges of tax evasion and bank fraud in Virginia.
He has pleaded not guilty to all charges.
The judge overseeing the case in Virginia, U.S. District Court Judge T.S. Ellis, can rule to keep Manafort jailed pending trial if the D.C. Circuit overturns Jackson's decision.
Since June 15, Manafort has been held at the Northern Neck Regional Jail in Warsaw, Va.
In sending him to jail, Jackson said Manafort, 69, "abused the trust" placed in him when he was released on bond and treated the court proceedings as "just another marketing exercise."