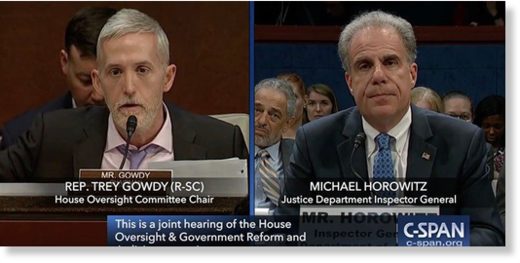 At the Justice Department IG hearing, Gowdy cuts to the heart of the matter and chops through the wordplay of the IG report
Representative Trey Gowdy took the IG document summary out to the woodshed on Tuesday. He had good reason to do this. Once again, the FBI tried subtly to circle the wagons around itself.
The 568 page Inspector General Report on the matter of Hillary Clinton's use of a private server to transmit and receive classified government e-mails made several noteworthy claims that showed massive problems in the investigation.
However the summary document claimed that there was "no evidence of bias" in the investigation.
But this is wordplay.
What Inspector General Michael Horowitz' document means by this is that there was no document floating around that expressed a biased intent to exonerate Hillary and defraud then-candidate Donald Trump. That is true.
But as you can see and hear in the video below, this is just smoke and mirrors.
Watch as Rep. Gowdy shines the light of truth on this deceptive statement. The first video addresses the matter of bias in the FBI.
The second video is much longer, and contains the substance of the interview where Rep. Gowdy drills Michael Horowitz at length on this matter.