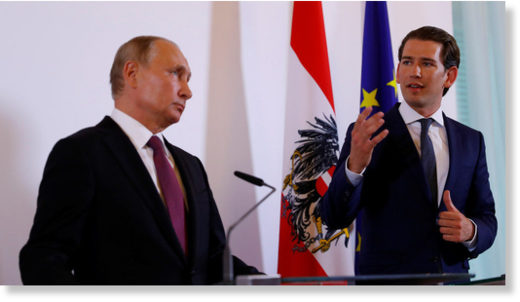 Russia is crucial in bringing peace to Syria and Ukraine, Austrian leader Sebastian Kurz told his Russian counterpart Vladimir Putin, adding he hopes Moscow helps secure peace in Donbass, paving the way to lifting EU sanctions.
"Russia, as a superpower, has an important role in Syria and eastern Ukraine, and Russia has great responsibility,"
Chancellor Kurz said after talks with Russian President Vladimir Putin in Vienna on Tuesday.
"We hope that Russia will contribute to people finally living to see what they wanted to see for a long time - peace."
"We have the highest hopes for progress in eastern Ukraine so that with gradual implementation of the Minsk agreements to step by step lift sanctions"
against Russia, the chancellor said.
"This is the scenario that we want to achieve for our continent."
After the talks, Putin told journalists that Austria has expressed readiness to join the humanitarian efforts in Syria.
"If Europe wants the flow of migrants from Syria and nearby countries to decrease, it's necessary to help the people to return to their homes; to help them to put life back on track in their country,"
the Russian president said.

Comment: Putin's got to spell it out to the West again, and again, and again. Help the Syrians (instead of the Jihadi opposition) and your migrant problem will be alleviated! End of story.


The Russian Air Force was first dispatched to Syria back in September 2015 on the request of country's president, Bashar Assad. The successful bombing campaign against Islamic State (IS, formerly ISIS/ISIL) and other jihadist groups, backing the advances of government forces, and the establishment of de-escalation zone have led to most of the Syrian territory being liberated from terrorists.
In Ukraine, on the other hand, Moscow does not consider itself part of the conflict. The Kremlin has repeatedly denied Western claims that it has been supporting the rebels in Donetsk and Lugansk regions with arms, money and manpower in their fight against Kiev.
Despite not being a party to the war, Russia has been actively working to achieve peace in Donbass, brokering the Minsk-2 peace deal with France and Germany in February 2015, which led to a sharp decrease in violence in the conflict zone.