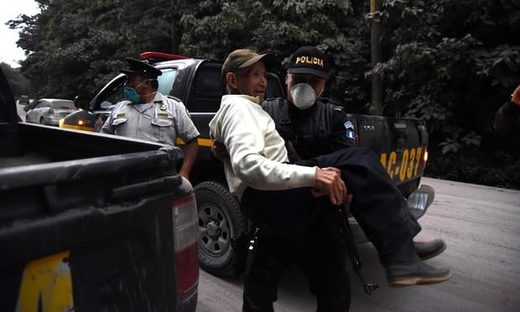 President considers declaring state of emergency in region as smoke and ash forces closure of capital's La Aurora airport
At least 25 people, including three children, have been killed and nearly 300 injured on Sunday in the
most violent eruption of Guatemala's Fuego volcano in more than four decades
, officials said.
Fuego volcano, whose name means "fire" in English, spewed an 8km (five-mile) stream of lava and belched a thick plume of black smoke and ash that rained onto the capital and other regions.
Sergio Cabanas, the general secretary of Guatemala's Conred disaster agency, said on the radio: "It's a river of lava that overflowed its banks and affected the Rodeo village. There are injured, burned and dead people."
Mario Cruz, spokesman for the volunteer firefighter corps, said: "We have seven confirmed dead, four adults and three kids, who were already taken to the morgue." He added that 3,100 people had evacuated the area so far. The disaster agency later updated the death toll to 25.
President Jimmy Morales said he had convened his ministers and was considering declaring a state of emergency in the departments of Chimaltenango, Escuintla and Sacatepequez.
It is the second time the volcano has erupted this year, setting off loud explosions and spewing ash into the sky.
Soot blanketed cars and houses in the nearby villages of San Pedro Yepocapa and Sangre de Cristo.
Lesser amounts of ash fell on Guatemala City, which is 44km (27 miles) from the volcano. The capital's La Aurora international airport to shut down its only runway.
Workers and guests were evacuated from the La Reunion golf club. A video circulating on social media showed a black cloud of ash rising from just beyond the golf club.
The huge plumes of smoke that could be seen from various parts of the country and the ash that rained down in four of Guatemala's departments caused some alarm among residents.
Officials asked residents to remain calm. "It is important to remain calm because the Fuego volcano erupts throughout the year," said David de Leon, spokesman for the National Disaster Prevention Authority.
De Leon said a change in wind was to blame for the volcanic ash falling on parts of the city.
Eddy Sanchez, the director of Guatemala's seismological, volcanic and meteorological institute, warned of the danger of mud flows, saying: "Temperatures in the pyroclastic flow can exceed 700 degrees [Celsius] and volcanic ash can rain down on a 15km (9.32-mile) radius. That could cause more mud flows and nearby rivers to burst their banks."
Reuters and Associated Press contributed to this report