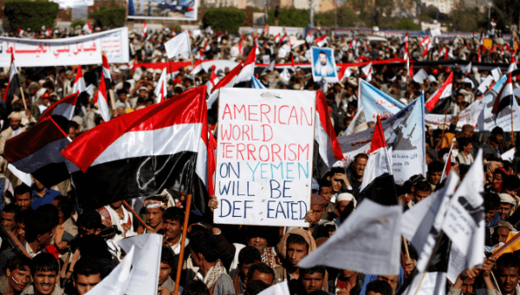 March 26th this year marked the third anniversary of the US/UK/Saudi war on Yemen. So far, the Saudis and their allies have been unable to win the war. The resistance from the Yemeni people and army to the aggression of Saudi Arabia and its US and UK allies, has been remarkably strong.
On the anniversary this year, tens of thousands of Yemeni citizens gathered in Sana'a to protest against the western-backed Saudi war. Hussain Al-Mousawy, a political analyst from Beirut,
remarked on PressTV's 'The Debate'
:
For those who know history, Sana'a is one of the only cities in the world that was never ever conquered. It's close to impossible to take over the city. It's been 3 years, 36 months... I think we've entered the 37th month now of this war, Saudi's are locked in a quagmire in Yemen. They're not able to do anything, basically because the Yemenis have shown strong resilience, they've stood beside their army, their leadership... they've really sent a message to the whole world that if you stand resilient and if you are on the right side of the war, you can be able to succeed.
Since the war started Yemen has not hesitated to fire back at Saudi Arabia. The
latest missile
to hit a military base run by Saudi Arabia, the al-Anad air base - which is a former US special operations forces facility - was fired on May 17th. Two days before, the King Faisal military base in Saudi Arabia's southwestern region of Jizan was also hit with another short-range Badr-1 ballistic missile fired by the Yemeni army. Shortly before this latest strike, a short-range Zelzal-2 missile was fired at a gathering of Saudi-backed mercenaries in the al-Ghayl district in northwestern Yemen. These attacks are just a few examples of the many attacks that Yemen has carried out over the past 3 years.
In an attempt to save face and downplay the strength of Yemeni resistance, Saudi Arabia and its allies have
claimed
in the past that they shot down ballistic missiles fired from Yemen, yet such claims are very suspect. An
article
published in the
New York Times
in December 2017 analyzed the effectiveness of Saudi missile defense. The authors wrote that, while President Trump claimed their "
system knocked the missile [that was fired at Riyadh's airport] out of the air
", a research team concluded that the missile actually nearly hit its target. In fact: "
The warhead detonated so close to the domestic terminal that customers jumped out of their seats.
"
The conclusion of the authors of the article was that Houthis "
have grown powerful enough to strike major targets in Saudi Arabia, possibly shifting the balance of their years-long war.
"
This is a positive sign overall for the war-torn country. It should be added that it is not only the steadfastness of the Yemeni people and the skills and courage of the Yemeni army and the Houthis that have allowed Yemen to hold their own against Saudi Arabia and the USA, but also the support Yemen has received from Iran, not to mention the
Soviet-era missiles
they have been using. Just today, a Soviet era R-27T air-to-air missile
was fired from the ground at a Saudi (US?) jet
with the
jet apparently taking a direct hit
. And this may just be the beginning. Early last month, Saleh al-Samad, the head of the Houthis' political council,
remarked
that the group is ready to buy weapons from any country willing to sell them, whether it is Russia or Iran, as weapons from both of these countries are affordable.
Two weeks after this statement, a US MQ-9 Reaper drone
fired a missile into Samad's residence
in the Red Sea port city of Hudaydah, killing him. Note that it was a
US
drone. His death led to Yemen officials
suggesting
"
Americans planned and then executed this intricate operation
". In today's world, asking for assistance from Iran or Russia may put a bullseye on your back.
With regard to Iran providing arms to Yemen, the US ambassador to the UN, Nikki Haley,
said
the following on December 14th, 2017:
We're also taking a hard look at Iran's ballistic missile program, its arms exports, and its support for terrorists, proxy fighters, and dictators. [...] Most telling, the report makes a convincing case that Iran is illegally providing the Houthi militants in Yemen with dangerous weapons. The report provides devastating evidence of missiles, conventional arms, and explosive boats of Iranian origin used by the rebels in Yemen - all of which violate UN resolutions.
This is a peculiar comment made by the ambassador of a country that has been actively supporting
real
terrorists in the Middle East and Libya as it pursues its global campaign of 'regime change' for 'geostrategic' reasons. If Iran (and Russia) had not supplied Yemen with weapons, either in the past or today, Yemen would likely have been overrun by Saudi and US forces long before now, with the civilian death toll and destruction much more severe than it has been to date.
Sadly, that doesn't mean the situation in Yemen can be described as tolerable. An increasing number of airstrikes carried out by Saudi Arabia (directed by US forces) have been purposefully targeting civilian gatherings, including weddings, busy market places, hospitals and schools. Last month,
a wedding party was hit
by a Saudi-US airstrike in northern Yemen killing at least 20 civilians, including the bride, with 45 (severely) wounded, 30 of them children.
The Yemeni Ministry of Human Rights
announced
in a statement in late March that:
the militairy campaign against Yemen led by Saudi Arabia, the US, and the UK has killed and injured over 600,000 civilians, including more than a quarter of a million children.
airstrikes conducted by Saudi Arabia have caused at least 38,500 deaths.
2,949 children and women, and 8,979 men have been wounded or maimed as a result of the airstrikes.
Saudi Arabia has caused the death of an additional 296,834 people indirectly.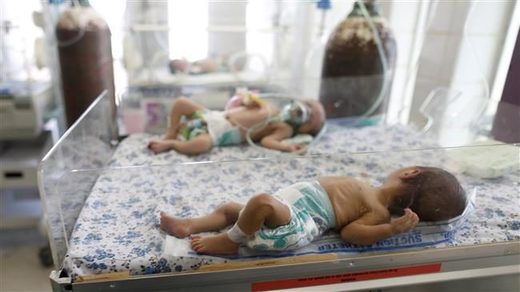 In addition, due to the sea, land and air blockade of Yemen, hundreds of thousands of children have died due to severe malnutrition, and nearly 20,000 civilians have died as they were prevented from traveling abroad for medical treatment. It is this brutal siege of Yemen that the US and the UK have been actively supporting for over 3 years. As a result, a major humanitarian crisis is unfolding, with the country facing the world's worst famine in decades.
Thankfully, Russia has been delivering humanitarian aid to Yemen (several times last year).
Yemeni ambassador to Russia, Ahmed Salem Wahishi,
told
Sputnik in an interview: "
The Yemeni government is thankful for Russia's political and humanitarian support for the Yemeni people. We look forward to enhancing its role in achieving peace in Yemen.
" Iran also has been offering humanitarian aid on a continuous basis, however the blockades in place have made delivery difficult.
But after the Houthi's missile attack on Riyadh, Saudi Arabia and allies
eased
a three-week blockade imposed on Yemeni ports and airports in November
.
Reuters
reports that the 'Saudi-led coalition' supposedly will give $1.5 billion in humanitarian aid for Yemen. The question remains whether that investment will actually reach the people in need.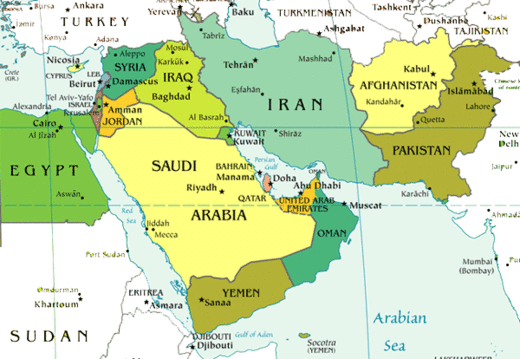 If we look at the current state of the situation in the Middle East and consider that (1) Saudi Arabia and its Western allies are losing jihadi mercenaries in Syria, and thus their 7 year long proxy war in Syria, (2) that Iraq is developing closer ties to Iran (in particular after this month's Iraqi elections where Shia strongman Moqtada al Sadr won), and with Iran being Iraq's largest trading partner (3) and considering the fact that Yemen has been fighting back in the ways that it has been able to, it's bad news for Saudi Arabia and western 'bringers of democracy and freedom' when it comes to gaining influence in this geopolitical area.
In short, it looks like the winds of change are blowing strongly through the Middle East. If the EU manages to hold its nerve against the threat of US sanctions on Iran (and the EU of course for doing business with Iran), then it's likely that the US/Saudi alliance in the Middle East will see its influence in the region wane even further. This, in turn, may lead to more support for Yemen in its war with Saudi Arabia and more pressure on Saudi Arabia and allies for their brutal aggression against the Yemeni people.
While it is difficult to say if an end of the war in Yemen (or at least a complete lifting of the blockade) is likely in the near future, a combination of the defeat of the US/Saudi 'regime change' plans in Syria, more Iranian and Russian influence in the region, continued support from both of those countries for the Yemeni army and Houthis, and the resilience of the Yemeni people themselves, may allow for a measure of hope that there will be a positive outcome for Yemen in its long war with Saudi Arabia and the USA/UK.