About DanielS
Name: Daniel Solomon

Born and raised on the mean streets of Canada, Daniel has been contributing to SOTT since 2013. He has a keen interest in the Society's Child, Secret History and Science of the Spirit sections and holds a Diploma in Marketing Administration. When not working on SOTT, he enjoys writing and playing music, working with horses, watching JP videos (Jordan Peterson AND JP Sears), and other stuff as well.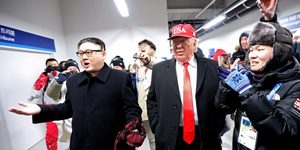 Did The Donald and Rocket Man secretly meet at the Winter Olympics in PyeongChang?
"In keeping silent about evil, in burying it so deep within us that no sign of it appears on the surface, we are implanting it, and it will rise up a thousand fold in the future. When we neither punish nor reproach evildoers, we are not simply protecting their trivial old age, we are thereby ripping the foundations of justice from beneath new generations."
- Aleksandr I. Solzhenitsyn
Recent Comments
The famous mobile gas chambers were not invented by the Nazis. They were developed, in 1937, by Isai Davidovich Berg, a leading Jew in the NKVD...
---
Yknow, I wonder, lets talk Michaela Jackson, maybe it's just me, I actually am not a fan of him. But what captured the world was the music and...
---
Well, it's all rather obvious from their own texts and days of absolution... isn't that the name of that day in which they forgive themselves for...
---
Asteroids: gods reset button
---
"Although there was misconduct on the part of some Soviet troops, any misdemeanor was vigorously punished by the military police and political...