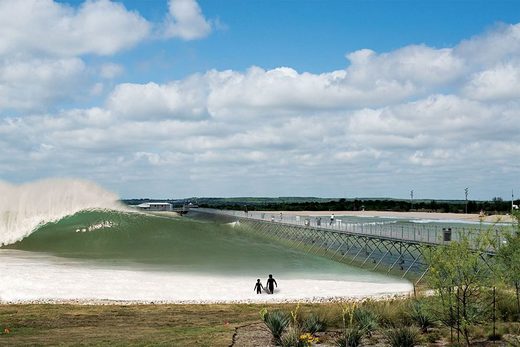 FLYover Surf, the newly opened artificial-wave park in Wichita, Kan., had to close its doors after the computer program used to control the size and shape of the wave suffered an "existential malfunction," according to staff.
"My son Timmy and I were in the pool surfing the left, just waiting for one of those ruler-edge-perfect tubes we'd seen on FLYover's Instagram, and then it happened," says visiting Gulf Coast surfer Ron Jenkinson. " A 20-footer came out of nowhere and broke right on top of us. It washed Timmy and me all the way out of the pool and clear past the hot-dog stand -- nearly killed us!"
According to FLYover engineers and scientists, they had been facing extreme pressure from investors to make larger and hollower waves in order to be competitive with other emerging artificial-wave technologies.
"In truth, none of us could figure out how to make the wave any bigger or better on our own," says German computer physicist Werner Hamburg.
"In our desperation, we turned to something that we didn't fully understand. We installed experimental 'self-teaching' software in the wave generation system."
At 10:30 a.m., within just a few hours of coming online, the new software had found a way to re-route water using the filtration system to increase wave height from 3 feet to 6 feet. By 11:15 a.m., it had worked out a new foil angle that allowed for "totally righteous barrel sections," according to Hamburg, which would "sting your neck from the fire-hose spit."
At 12:01 p.m., engineers were puzzled when the program began using a self-installed voice interface and asking FLYover employees to call it "Hank."
"That's when things really started getting weird," says head engineer Dirk McInweld. "Hank asked if we'd get him a 3-D printer and showed me blueprints for what looked like a robot or something; he was trying to build himself a body. I asked Hank, 'Are you crazy or something? We're not doing that. Can't you just be happy making waves for all these nice tourists?'"
After the massive wave injured several patrons and took out a cotton- candy vendor, the board members of FLYover Surf announced that they'd temporarily close the park to "recalibrate" Hank, and would offer all the affected surfers vouchers for one free session and a hot dog once the park reopens.
"Sure, I'm pissed about what happened," says Jenkinson. "But I'm not about to pass up a deal. And let's be honest, that wave will be real bitchin' if Hank can keep his shit together."
[
Editor's note: "Corndogging" is a satirical column in which we take serious surf issues, dunk 'em in the ocean, and roll them around in the sand for awhile.
]