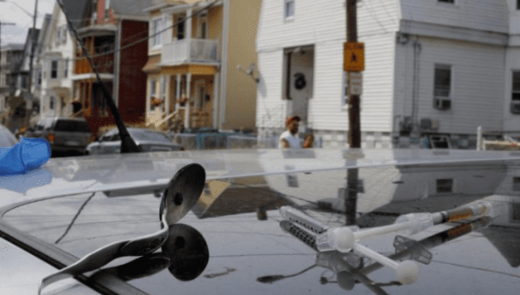 LA is filing a lawsuit against opioid drugmakers for engaging in "reckless and irresponsible business practices" for the sake of sales, contributing to the city's opioid epidemic
.
Los Angeles is filing a formal lawsuit against several opioid drugmakers and distributors saying they have engaged in "reckless and irresponsible business practices" for the sake of a sale, contributing heavily to the city's opioid epidemic.
Speaking for the city, L.A. city attorney Mike Feuer said in a press conference today that he has filed a 165-page suit in a federal court against opioid producers - Purdue Pharma, Janssen Pharmaceuticals, Endo Pharmaceuticals, Cephalon, Insys Therapeutics and Mallinckrodt - for allegedly violating federal anti-racketeering laws and for implementing deceptive marketing to boost sales of their top opioid painkillers - OxyContin, Methadone and fentanyl.
Feuer said the city is holding these drug producers, and three drug distributors, accountable for accelerating the opioid epidemic in L.A.
In a statement released by the city attorney's office, Feuer said, "The scourge of prescription drug addiction has made a significant impact on Los Angeles residents and created a continued public nuisance in our City." He asserted, "Manufacturers and distributors of these highly addictive and potentially fatal drugs must be held accountable for driving the opioid epidemic and the significant impacts of their reckless and irresponsible business practices."
The complaint alleges that the companies borrowed from the "tobacco industry's playbook" by misrepresenting the drugs as long-term solutions to chronic pain and downplaying to doctors and patients their highly addictive nature.
The suit also concludes that some producers continued to participate in suspicious sales, naming Purdue Pharma, the maker of OxyContin, for selling more than 73,000 of the pills to a city doctor who prescribed that many within four months in 2016. With an L.A. street value of more than US$6 million, Feuer says Purdue failed to look into the doctor's practices who was likely selling the designer drug illicitly.
Feuer said that although Los Angeles has not been hit as hard by the country's opioid crisis as rural areas, the city still suffers from its negative effects.
"I will not let Los Angeles become the next West Virginia or Ohio when it comes to the devastating effects of the opioid crisis," Feuer said at the news conference.
Mayor Eric Garcetti reported that last year more people died in Los Angeles from overdoses than by homicide. "People become addicts on the streets of our city," Garcetti said. "We see the number of tents beginning to multiply around Los Angeles over the last few years. We know ... the reason many stay out there is their addiction and their inability to break that cycle," Garcetti said.
According to the
L.A. Times
, an Ohio judge has compiled more than 350 lawsuits that have been filed at all levels of the U.S. government against opioid drug makers and distributors in an effort to reach a "global settlement."
The Healthcare Distribution Alliance, the national trade association that represents the three distributors - McKesson Corp., Cardinal Health and AmerisourceBergen - named in the suit, says their companies are innocent.
"The idea that distributors are responsible for the number of opioid prescriptions written defies common sense and lacks understanding of how the pharmaceutical supply chain actually works and is regulated," John Parker, senior vice president of the alliance, said in a statement. "Those bringing lawsuits would be better served addressing the root causes, rather than trying to redirect blame through litigation."