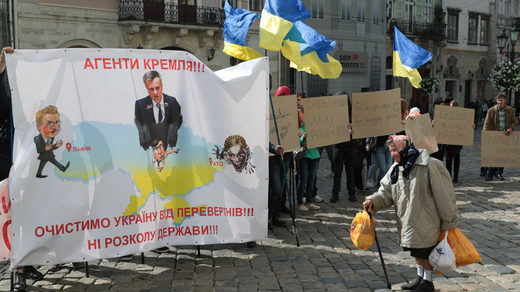 Kiev announced the cancellation of its economic cooperation agreement with Moscow on Wednesday.
The deal was signed in 2011 before the Maidan revolution, and was to be implemented by 2020.
"It was adopted unanimously," Prime Minister Vladimir Groisman said. Kiev explained the move by saying it was putting the "national interests of the country" first.
Earlier, Groisman told the local Channel 112 that Ukraine "will do everything to ensure that the aggressor country (meaning Russia) pays a high price for aggression in Ukraine."
Russia and Ukraine signed a program of economic cooperation in 2011.
The document, which was planned for implementation by 2020, provides for enlarging free trade and mutual protection of investments, creating a system of payment and settlement operations, and ensuring free movement of citizens.
Despite calling Russia an aggressor and signing a free-trade agreement with Europe, Moscow remains Ukraine's largest trading partner. According to data quoted by RIA Novosti, the volume of trade between the two countries grew significantly last year.
Ukraine sold 140 percent more goods to Russia, and imported 110 percent more compared to the year before.
Russia has a 9.4 percent share of Ukrainian trade, second only to the European Union as a whole.
After relations between the countries deteriorated, Ukraine gradually lost half of its Gross Domestic Product, which shrank from $183 billion in 2013 to $93 billion in 2016.
The Ukrainian hryvnia has depreciated more than three times against the dollar and more than two times against the Russian ruble over the period.