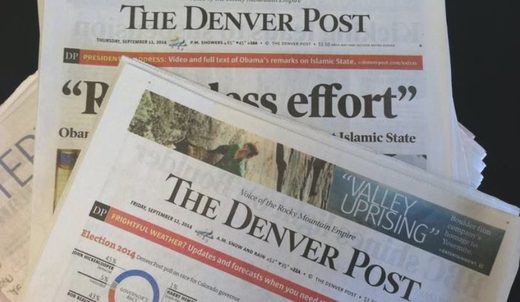 The
Denver
Post
is reportedly cutting 30 people from its newsroom, one-third of the paper's staff.
The
Post's
city hall reporter Jon Murray tweeted that an editor announced the news during a staff meeting. "There are some sobs in the room," Murray added.
In a staff meeting, the @DenverPost editor just told us that we are cutting 30 positions in the newsroom. There are some sobs in the room.
- Jon Murray (@JonMurray) March 14, 2018
The newspaper currently has about 90 people in its newsroom and will see it's staff cut by a third.
The owners if The Denver Post, @digitalfirst, are forcing or 30 people in the newsroom. This is a third of our staff, and it is devastating.
- Noelle Phillips (@Noelle_Phillips) March 14, 2018
The owner of the
Post
, the hedge fund Digital First Media, has been cutting positions in the last few years.
The
Denver
Post
recently cut 10 positions in 2017, according to the
Denver Business Journal
. More than 20 staffers also took buyouts or were laid off in 2016, according to
Westword
.
Digital First Media also announced there will be "significant" layoffs to the papers it owns in California
, the
Los
Angeles
Times
reported
.
#AldenExposed: Had an all-staff meeting today. 30 people to be cut from @denverpost by April 9. This hedge fund won't quit killing journalism to meet its bottom line. pic.twitter.com/xT54pX7h7y

- Ian Gassman (@IanGassman) March 14, 2018
The cuts in Denver are reportedly set to happen by April 9.
Murray tweeted that the paper will at first seek volunteers for severance packages but it's unclear what happens after that.