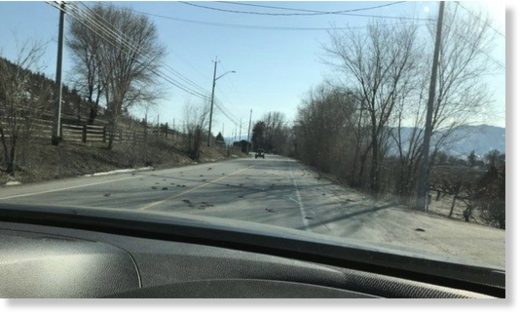 Like an ominous scene from a Hitchcock film, a flock of dead birds littering the road left a Castanet reader seeking answers.
On Saturday March 10, Naramata-area resident Mary found traffic on Naramata Road not far from La Frenz Winery suddenly slowing to a crawl. She soon discovered why.
"There were what seemed like hundreds of birds dead on the road and around it," Mary said.
She identified the birds as starlings, an invasive species in the Okanagan, and snapped a photo. Her daughter then sent the picture to Castanet in the hope that an explanation could be found.
The Canadian Wildlife Service was very interested in the information, and have set out to conduct an investigation.
"Anytime three or more dead birds are found in an area, we want to know about that," said Tanya Luszcz, with the Canadian Wildlife Service.
A local provincial worker will be heading to the site Tuesday to collect any birds that may remain in order to conduct tests. Possible causes could include accidental poisoning from fermented fruit or a disease.
Luszcz said that members of the public who come across dead wild birds are urged to contact the government to help aid their efforts in tracking wild deaths and diseases.