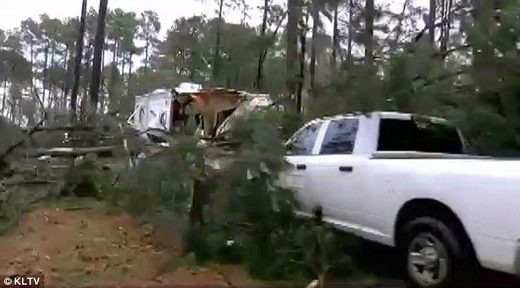 Authorities have confirmed that at least two people were killed during severe thunderstorms in the Southwest Saturday night.
'Please be aware that there was one fatality at the Brushy Creek campground and not four, as was mistakenly reported initially,' Marion County Sheriff David McKnight said on
Facebook
.
Authorities said the deceased 'was a 40 year woman from southeast Texas'.
Another death was reported by Longview Police.
Police told
KLTV
that a 41-year-old man was killed during the storms at the Flamingo Mobile Home Park when a tree fell on his mobile home.
His 12-year-old son was rescued and was taken to the hospital. The child's injuries are still unknown.
The severe storms started to move through the area around 10.30pm Saturday night and continued until around 6am Sunday morning, according to
KTSB
.
The storms produced large hail, sometimes in excess of two inches in diameter, damaging wind gusts over 70mph.
A video showed golf ball-sized hail in the De Berry, Texas, area.
Marion County Sheriff's Office and other emergency services personnel were also on the scene of severe storm damage at Lake O' The Pines.
The National Weather Service sent a team to Marion County to survey the damage at Lake O'Pines on Sunday.
Preliminary findings show that a tornado did not touch down in the area. Instead, experts found that straight-line winds from 80-90mph caused the trees in wet, saturated ground to topple during the storms.
McKnight said the area is closed indefinitely and that no one should attempt to enter the campground area until cleanup efforts are completed.
Earlier Saturday evening, the weather service issued a warning, saying people and animals outdoors would be injured if they remained outside during the storm.
One storm in far eastern Oklahoma, near Marble City, produced golf ball size hail before 4pm.
Some very large hail, up to 3.5 inches in diameter or larger than teacups, fell in Pine Bluff, Arkansas, Saturday evening.
This batch of severe thunderstorms continued to drop large hail as traveled through northwestern and central Arkansas, including in Uniontown, Fort Smith and parts of the Little Rock metro area, according to the
Weather Channel
.
A few power poles were blown down near Chickalah Saturday evening.