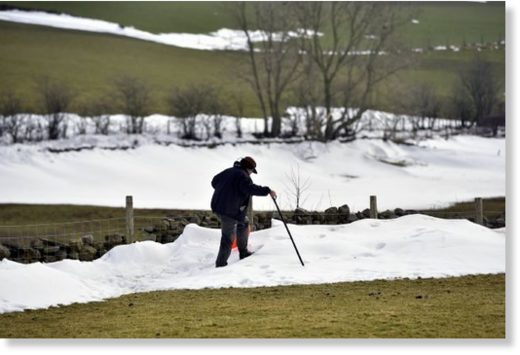 Thousands of sheep have been wiped out in the snow storms which have hit Cumbria as farmers are left counting the tragic cost.
While rising temperatures have seen a thaw set in across much of the county,
farmers on isolated communities are still desperately trying to feed and rescue buried livestock from deep drifts.
Cumbria was among the counties worst hit after the so-called 'Beast from the East' met Storm Emma, causing blizzards and drifting snow that paralysed road networks and shut off farms.
While many dairy farmers have been forced to throw away thousands of litres of milk after snow drifts prevented lorries from accessing farms to collect it,
livestock farmers are braced for a spiralling bill for large-scale sheep losses following the recent snowstorms.
Top farming officials predict the worst is yet to come with the death toll rising as the snow thaws.
"We are talking about thousands of sheep being lost to the snowstorms," said David Hall, National Farmers' Union north west regional director. "But many of these sheep will be pregnant ewes, and that has a massive impact on future income for farmers."
He added the union had been pushing Defra for funding for fallen stock since last Friday. "There's a lot of work going on behind closed doors to get help for the farming community, and this will continue
The Stobart family, who farm 1,600 acres of moorland at Croglin High Hall, Croglin, near Penrith, have spent the last week frantically digging out hundreds of their sheep caught in snowdrifts several feet high.
"It's the worst we've seen up here. We've never known the Helm wind so strong. It's been horrendous. We have managed to save a lot of our pregnant ewes, but we have 550 on the fells. It's been good to see the community come together helping out. But we're seeing heavy losses with more to come," said James Stobart.
"It's heartbreaking. The sheep had sought shelter from the strong wind only to be caught in the drifting snow, which quickly froze."
A Defra spokesperson said: "We understand the difficulties farmers face in severe weather and are in close contact with farmers' representatives on the latest situation. Where possible - and safe to do so - fallen stock should be collected and stored so as to prevent access by other livestock or pests, such as rodents or birds."