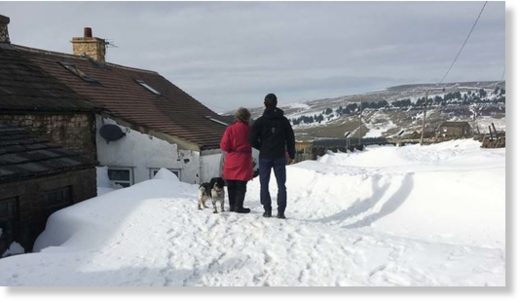 Hundreds of livestock are feared dead as the effect of Storm Emma on farms starts to become clear in north-west England.
Defra is facing calls from industry leaders and local representatives to release emergency funding to subsidise the cost of fallen stock disposal in Cumbria.
But the department told the NFU no government money is available to support collection costs.
MP Rory Stewart, who represents the Penrith and The Border constituency, described conditions as "some the worst in living memory" and said the case for Defra support was clear.
Urgent request
Mr Stewart, who visited farms and rural residents on Monday (5 March), said he had been in touch with Defra minister George Eustice to request the urgent release of Defra funding.
The government last relaxed the rules on stock disposal due to extreme weather in 2013.
Mr Stewart said he had also secured a dedicated caseworker from the Association of British Insurers (ABI) to help people and businesses in affected communities.
This was either in terms of loss of stock or income, of damage to infrastructure, or other claims with which they may require assistance in brokering insurance payouts.
Mr Stewart said: "Conditions in parts of Penrith and The Border are, quite simply, some of the worst in living memory. Farmers are suffering a great deal."
Critical time
"Not only have they lost stock in-lamb - the most critical time for most farmers - but on top of that they are dealing with the costs of disposal, sometimes of hundreds of dead animals."
"The financial and emotional impact of this is unimaginable - they have all my sympathies."
The NFU said it was continuing to press for further support to aid those farms affected.
A mechanism is in place for the National Fallen Stock Company (NFSco) to credit the farmer's account when the exact numbers collected are known.
The NFU said this was a simple and accurate way of ensuring that any support went to those livestock producers who had lost animals.
Evidence
The union said it was gathering evidence from across the country about losses and would again be asking Defra to support those farmers hit the hardest with collection costs.
Disposal costs for a sheep carcass over 12 months will range from £15 to £20 - so a farmer who had lost 80 ewes could have a disposal bill of more than £1,600.
When this was compounded by the loss of the lamb sales and breeding value of the ewe, the snow would have had a serious effect on many businesses.
Defra said it was sympathetic to farmers who had lost stock and were having problems in complying with normal fallen stock disposal rules as a result of the weather.
Biosecurity
The department agreed collection of dead stock could be delayed without contravening what are known as animal by-product (ABP) regulations.
This was because cold temperatures meant carcasses would remain fresh for longer - although farmers must still ensure they maintained good on-site biosecurity practices.
"Where possible - and safe to do so - fallen stock should be collected and stored so as to prevent access by other livestock or pests, such as rodents or birds," said Defra.
National Fallen Stock Company collectors were ready to support farmers with fallen stock collection and disposal, added the department.
"There is currently no government funding available to support collection costs," said Defra. "We will continue to monitor the ongoing situation."